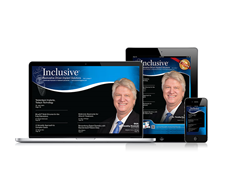 Inclusive prompts its readers to implement the latest advancements in implantology in order to achieve predictable, profitable, reproducible results.
Newport Beach, California (PRWEB) July 01, 2014
Glidewell Laboratories, industry-leading provider of dental laboratory products and services, announced today that the latest issue of Inclusive™ magazine, its multimedia publication focused on implant dentistry, is now available in print and across multiple digital platforms. The digital edition of the new issue, Volume 5, Issue 1, as well as past issues of the dental laboratory's quarterly magazine, can be viewed from all popular desktop, tablet and smartphone platforms by visiting http://www.inclusivemagazine.com.
The featured Implant Q&A spotlights general dentist Dr. Timothy Kosinski, whose practice has thrived in difficult economic times by offering restorative-driven implant dentistry at a fair and reasonable price. Read the article, and watch the exclusive video interview to discover his secrets to success and hear his thoughts on why more general dentists should learn to place implants, how to best educate and garner case acceptance from patients, the factors to evaluate when considering guided surgery, and the importance of mentoring the younger generation of dentists.
The latest issue also features an article by Dr. Michael McCracken outlining a case where he restores two fully edentulous arches with the BruxZir® Full-Arch Implant Prosthesis. Dr. McCracken follows a straightforward protocol to deliver an exceptionally durable, esthetic restoration, illustrating how CAD/CAM design and milling have made fixed, all-zirconia restorations a reality for fully edentulous patients. Another fully edentulous case presented by Dr. Glenn Wolfinger demonstrates how All-on-4 treatment and multi-unit abutments enable clinical flexibility in cases where tilted implants, tissue thickness and limited interocclusal space must be accommodated.
Two articles, one by Dr. Kosinski and another by Dr. Jack Hahn, shed light on just how far implant therapy has progressed over the years, as patients who first received implants decades ago are restored yet again with the added benefit of modern implant designs and the latest restorative technology.
Other articles highlight the technological advancements that are spearheading the improved efficiency and quality of care that doctors are able to offer patients. Dr. Siamak Abai presents a case where a comprehensive treatment plan incorporating both digital and traditional treatment modalities is used to address the challenges of a complex, 5-unit implant restoration. A feature on BioTemps® explains the benefits of digitally produced provisionals, which help ensure an optimal case outcome by allowing for intraoral patient evaluation of the definitive restoration prior to fabrication of the final prosthesis. An article on the Encode® Impression System provides an overview of the Encode® Healing Abutment, which is "encoded" with special markings that convey abutment design and milling information to the lab when the final impression is taken, eliminating the need for a transfer coping.
After reading the articles, viewing the case photos and watching the videos, readers have the opportunity to take free interactive continuing education (CE) tests through the Glidewell Education Center. Participants can earn free CE credits through the Academy of General Dentistry (AGD) Program Approval for Continuing Education (PACE) program for each test they complete and pass.
Inclusive magazine is published by Glidewell Laboratories and President/CEO Jim Glidewell, CDT. Each issue of Inclusive seeks to highlight the many aspects of dental implants from clinical and laboratory perspectives. Featuring case studies, clinical tips and techniques, and practice management tools in both article and video format, Inclusive prompts its readers to implement the latest advancements in implantology in order to achieve predictable, profitable, reproducible results.
To view the new Inclusive magazine digital edition from your desktop computer or favorite mobile device and to sign up for a free subscription to the print version, visit http://www.inclusivemagazine.com. For more information about Inclusive magazine, call 800-521-0576 or e-mail inclusivemagazine(at)glidewelldental(dot)com.