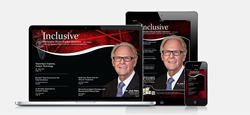 Inclusive prompts its readers to implement the latest advancements in implantology in order to achieve predictable, profitable, reproducible results.
Newport Beach, California (PRWEB) October 21, 2014
Glidewell Laboratories, industry-leading provider of dental laboratory products and services, announced today that the latest issue of Inclusive™ magazine, its multimedia publication focused on implant dentistry, is now available in print and across multiple digital platforms. The digital edition of the new issue, Volume 5, Issue 2, as well as past issues of the dental laboratory's quarterly magazine, can be viewed from all popular desktop, tablet and smartphone platforms by visiting http://www.inclusivemagazine.com.
The featured Implant Q&A spotlights implant dentistry pioneer Dr. Jack Hahn. In addition to placing implants back when few others dared to try, he has contributed key implant design innovations. Read the article, and watch the exclusive video interview to discover his thoughts on a wide range of topics in the field of implant dentistry, including clinical techniques, digital technologies, and practice management strategies.
Dr. Jansen explains how the Encode® Healing Abutment, which can be placed at the time of surgery and remain in place until delivery of the definitive restoration, simplifies treatment whether a traditional or digital workflow is being followed. By eliminating the need to place a transfer coping or scanning abutment for the final impression, the Encode Healing Abutment saves time and reduces the forces applied to the implant, soft tissue, and underlying bone.
The latest issue also features an article, by Dr. Timothy Kosinski, on the advantages that a digital workflow provides. Using intraoral scanning and CAD/CAM technology, custom abutments and implant crowns can be produced with an unprecedented degree of precision and efficiency. This approach grants clinicians the opportunity to achieve a superior fit and natural emergence profile for the final restoration with less time between appointments.
Also featured in the issue is an article about how dental offices can reap the benefits of billing temporomandibular joint dysfunction, obstructive sleep apnea appliances and congenital or developmental anomalies to medical insurance plans. Dr. Olya Zahrebelny, an Illinois-based general dentist and former insurance plan consultant, uses her thorough understanding of the relationship between dentists and insurance companies to demystify the billing and claim submission process.
Dr. Lambert Stumpel demonstrates how clinicians can position implants with increased accuracy using a model-based surgical guide, providing an increased level of control for single- and two-unit cases. And Dr. Siamak Abai reviews the general parameters and considerations for diagnosing, treatment planning, and surgically placing implants in the esthetic zone. Read his clinical tip to discover how restorative-driven treatment planning helps optimize esthetics and the final prosthetic outcome.
After reading the articles, viewing the case photos and watching the videos, readers have the opportunity to take free interactive continuing education (CE) tests through the Glidewell Education Center. Participants can earn free CE credits through the Academy of General Dentistry (AGD) Program Approval for Continuing Education (PACE) program for each test they complete and pass.
Inclusive magazine is published by Glidewell Laboratories and President/CEO Jim Glidewell, CDT. Each issue of Inclusive seeks to highlight the many aspects of dental implants from clinical and laboratory perspectives. Featuring case studies, clinical tips and techniques, and practice management tools in both article and video format, Inclusive prompts its readers to implement the latest advancements in implantology in order to achieve predictable, profitable, reproducible results.
To view the new Inclusive magazine digital edition from your desktop computer or favorite mobile device and to sign up for a free subscription to the print version, visit http://www.inclusivemagazine.com. For more information about Inclusive magazine, call 800-521-0576 or email inclusivemagazine(at)glidewelldental(dot)com.