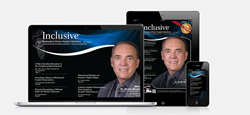 Inclusive seeks to highlight the many aspects of dental implants from clinical and laboratory perspectives.
Newport Beach, California (PRWEB) December 19, 2014
Glidewell Laboratories, industry-leading provider of dental laboratory products and services, announced today that the latest issue of Inclusive™ magazine, its multimedia publication focused on implant dentistry, is now available in print and across multiple digital platforms. The digital edition of the new issue, Volume 5, Issue 3, as well as past issues of the dental laboratory's quarterly magazine, can be viewed from all popular desktop, tablet and smartphone platforms by visiting http://www.inclusivemagazine.com.
The featured Implant Q&A spotlights prosthodontist and innovator Dr. Gerald Niznick, who has made key contributions to implant research and design. Read the article and watch the exclusive video interview to learn about his experience working on a multimillion-dollar research study with the U.S. Department of Veterans Affairs, the process of building his own implant companies from the ground up, and the concepts behind some of his crucial implant innovations, including the internal conical connection.
The latest issue also features an article by Drs. Jack Hahn, B. Patrick Schaefer and Timothy Kosinski explaining the advantages of the the BruxZir® Full-Arch Implant Prosthesis. Although acrylic hybrid dentures have been the optimal solution for edentulous patients for some time now, their reliance on an acrylic base and denture teeth makes them vulnerable to breakage and wear. Full-arch restorations fabricated from monolithic zirconia offer an esthetic, exceptionally durable alternative. Another article by Dr. Lambert Stumpel presents a case where a unique method is employed to transition a patient from an acrylic hybrid denture to a BruxZir Full-Arch Implant Prosthesis.
Other articles highlight advancements in digital technology and restorative materials that are streamlining and improving the quality of care. A case presentation by Dr. Siamak Abai demonstrates how intraoral scanning, digital treatment planning, guided surgery, and CAD/CAM technology allow for the delivery of a provisional full-arch implant restoration immediately following tooth extraction. An article by Dr. Kosinski explains how CAD/CAM-produced custom components help to achieve ideal soft-tissue contours and a natural emergence profile in the most esthetically demanding cases.
This issue's Lab Sense article follows an intraoral scan from the time the doctor takes and submits the digital impression, to the receipt and processing of the patient's data at the lab, to the CAD/CAM design and fabrication of the final prosthesis, revealing an efficient, straightforward process that offers significant cost savings for doctors and patients alike.
Dr. Olya Zahrebelny's latest article explains how dentists should complete the Medical CMS-1500 (02/12) claim form in order to receive reimbursement for "medically necessary" dental treatment.
After reading the articles, viewing the case photos and watching the videos, readers have the opportunity to take free interactive continuing education (CE) tests through the Glidewell Education Center. Participants can earn free CE credits through the Academy of General Dentistry (AGD) Program Approval for Continuing Education (PACE) program for each test they complete and pass.
Inclusive magazine is published by Glidewell Laboratories and President/CEO Jim Glidewell, CDT. Each issue of Inclusive seeks to highlight the many aspects of dental implants from clinical and laboratory perspectives. Featuring case studies, clinical tips and techniques, and practice management tools in both article and video format, Inclusive prompts its readers to implement the latest advancements in implantology in order to achieve predictable, profitable, reproducible results.
To view the new Inclusive magazine digital edition from your desktop computer or favorite mobile device and to sign up for a free subscription to the print version, visit http://www.inclusivemagazine.com. For more information about Inclusive magazine, call 800-521-0576 or email inclusivemagazine(at)glidewelldental(dot)com.