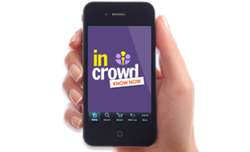 "There is no better way to learn about your customers than by asking them questions" - Janet Kosloff, Co-Founder & CEO
Cambridge, MA (PRWEB) July 18, 2013
Get to Know Your Customer Day is celebrated on the third Thursday of each quarter, although it should be celebrated all year long. Creating strong relationships is the key to creating long-term business relationships. No matter the industry- customers are a company's most important asset.
"Learning about your customers is a critical business function," says Janet Kosloff Co-Founder and CEO of InCrowd. "There is no better way to learn about your customers than by asking them questions." Listening to customers and helping to solve their problems increases loyalty and strengthens existing relationships.
The success of any business is built upon the foundations of strong client relationships. By getting to know each customer, the business is able to better provide products and services that meet their needs. By continuing to go the extra mile, an emotional connection can be established, leading to an even stronger bond.
Get to Know Your Customer Day is an ideal time to reach out and learn more about individual clients. InCrowd encourages individuals and companies to learn at least five new facts about their customers to celebrate.
Ask customers questions about:

Clinical research participation
Recurring pain points in providing care
The current healthcare environment
Patient demographics and needs
For even more ideas, visit our blog post "12 Questions To Know Your Customers Better." Let us know by commenting on the post which questions are most valuable to get to know your clients better.
About InCrowd, Inc.
InCrowd's (Twitter @InCrowdNow) on-demand platform provides direct and immediate access to Crowds of screened and targeted healthcare professionals. Crowd queries are fast, easy and specialized for the healthcare industry. Micro surveys facilitate fast response rates, while specialized crowdsourcing provides answers within hours, even minutes. InCrowd is the only company offering healthcare focused real time intelligence. For more information visit http://www.incrowdnow.com.