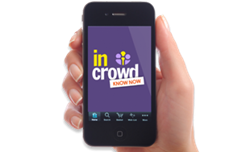 "Most of us have faced challenges in life and an opportunity to succeed in the face of those challenges can sometimes be the deciding factor in breaking the cycle of poverty and inequities." - Diane Hayes, PhD
Cambridge, MA (PRWEB) March 19, 2014
InCrowd, helping the pharmaceutical industry make smart decisions faster, today announced the renewal of their partnership with Summer Search Boston. InCrowd is committed to helping Boston students gain hands on experience within the technology industry and is proud to support Summer Search Boston.
Summer Search is a national youth development non-profit, that works with low-income high school students to transform what they believe is possible for themselves. They help students develop the skills and character traits they need to become college-educated leaders who give back to their families and communities. These students are selected through a rigorous process focused on performance and personality traits. Once accepted into the program, students take part in a multi-week wilderness leadership experience and begin weekly mentoring sessions. The success of the program speaks for itself, 99% of Summer Search students attain their high school diploma and 83% are on track to get a college degree; contrast that with fewer than 1 in 10 of their peers.
Summer Search provides their college students with professional mentoring and access to internships with 40 partner companies across the Boston area. The natural continuation of the high school program encourages students to develop professionally and put theory into practice.
"I heard about Summer Search last spring and we thought it would be a terrific idea to offer a summer internship to a Summer Search student. It felt like a great way to mentor a student, participate in an amazing program, and begin to give back to our community," said Diane Hayes, PhD, Co-Founder & President of InCrowd. "Most of us have faced challenges in life and an opportunity to succeed in the face of those challenges can sometimes be the deciding factor in breaking the cycle of poverty and inequities. We wanted to support students as they strive to make a better life for themselves - a great way to participate in success one student at a time. However, we were so impressed with our first Summer Search intern that we retained her for the academic year and quickly added a second Summer Search intern!"
Ina Shkurti, a freshman at the University of Massachusetts Lowell, is one of the InCrowd Summer Search interns. She credits Summer Search with providing her the necessary tools to thrive in high school and in her community. "My mentor and the summer trips have helped me identify my potential as a leader and made me more aware of the opportunities around me, " explains Ina. "Summer Search also connected me with InCrowd, where as an intern I have been exposed to the inner workings of a startup and where I am honing my professional skills."
Summer Search interns are hard working, driven and focused on success. To learn more about Summer Search and explore the possibility of developing your own summer internship partnership, contact Alison Cunningham, Senior Development Associate at Summer Search Boston via email at: acunningham(at)summersearch(dot)org.
About Summer Search
Since 1990, Summer Search has partnered with high schools to identify low-income students short on opportunity and long on resilience, altruism and determination—character traits that hold the seeds for success in school and in life. They make a long-term investment in these students (at least five years, from high school through college). Each student in Summer Search is partnered with a professional mentor and then offered experiential opportunities that crack open their view of the world and ultimately reveal what they're capable of accomplishing. The program has seven locations and is headquartered in San Francisco, California. For more information, visit SummerSearch.org.
About InCrowd
InCrowd's on-demand platform provides direct and immediate access to Crowds of screened and targeted healthcare professionals. Crowd queries are fast, easy and specialized for the healthcare industry. Micro surveys facilitate fast response rates, while specialized crowdsourcing provides answers within hours, even minutes. InCrowd is the only company offering healthcare focused real time market research. For more information, visit InCrowdNow.com.