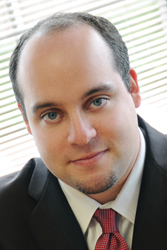 "It's wonderful to join a team that continues to innovate each and every day," said Costa.
Cambridge, MA (PRWEB) February 27, 2014
InCrowd, helping the pharmaceutical industry make smart decisions faster, announced today that Caleb Costa joined the organization to lead and further develop the client services team. Costa brings a wealth of industry experience, having spent the last five years specializing in healthcare market research for Biopharmaceutical and leading health system clients across the United States. Joining the rapidly growing InCrowd team, Costa will work to drive superior client service and support long-term business partnerships.
Costa joins InCrowd as the Vice President of Client Services, continuing InCrowd's commitment to providing an unparalleled customer experience. "It's simple… InCrowd is revolutionizing how we access primary market intelligence from highly sought after stakeholders. It's wonderful to be part of a team that continues to innovate each and every day," said Costa.
"We are very excited to have Caleb Costa join our executive team at InCrowd. Caleb comes to us with a depth of experience in operations, business intelligence, and client service in pharma market research. We expect he will excel at leading our client services team and assisting our clients as they make critical business decisions," said Diane Hayes, PhD, Co-Founder & President of InCrowd. "As this market sector evolves and keeps pace with technological advances, Caleb will assist our clients in staying current with the industry and our platform to collect key business intelligence to inform decisions today."
Costa holds a B.S. in Business Administration from SUNY Stony Brook University and an Executive M.B.A. from the Silberman College of Business at Fairleigh Dickinson University. He resides in Newton, Massachusetts with his wife and two young daughters.
About InCrowd
InCrowd's on-demand platform provides direct and immediate access to Crowds of screened and targeted healthcare professionals. Crowd queries are fast, easy and specialized for the healthcare industry. Micro surveys facilitate fast response rates, while specialized crowdsourcing provides answers within hours, even minutes. InCrowd is the only company offering healthcare focused real time market research. For more information, visit InCrowd, Inc.