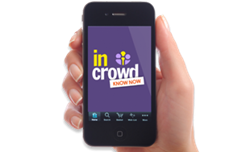 "What are the best practices for using the InCrowd platform?"
Cambridge, MA (PRWEB) January 24, 2014
InCrowd, the only provider of real time market intelligence for the pharmaceutical industry, today shared three use cases for pharmaceutical market researchers. Throughout 2013, InCrowd released case studies and best practice guides for the research community. This collection is educational in nature and available free of charge at CROWDtalk, the InCrowd blog.
Researchers new to the InCrowd platform often ask:

Do you have best practices for using InCrowd?
How are other researchers using InCrowd
To answer these questions and provide our users with additional information, InCrowd offers three use cases:
Follow-up to Traditional Market Research
After completing a traditional market research project, it's common to have a few additional questions that need to be answered before moving forward with the overall research findings. This can pose a challenge. How do you answer these new questions quickly and effectively – with no extra budget and in a time crunch? InCrowd enables pharmaceutical and medical device companies to quickly query a targeted physician audience and receive data back within 48 hours.
International Message Testing
Customers often share their need to reach international audiences, leading InCrowd to add international market research capabilities to the platform. In this use case, a pharmaceutical company is preparing to expand an established product in France. Their traditional messaging was translated into French, but the company wanted to ensure the translation and meaning was correct before finalizing their packaging. InCrowd enabled the company to ask questions to a Crowd of primary care physicians who prescribe similar medications in France. They were able to receive feedback based on their translation prior to printing their packaging.
Product Launch
The traditional zero to 12-week "blackout period" post launch is no longer acceptable in the pharmaceutical industry. Market researchers require a faster and more agile way to access feedback from healthcare professionals. In a recent InCrowd use case, a large pharmaceutical company launched a new drug into a highly competitive market using new selling tools and newly trained sale representatives. To gain immediate understanding of physician uptake around the MOA message, InCrowd built a custom Crowd of physician prescribers and queried physicians on the MOA. The company was able to implement necessary changes in sales training and physician messaging within days of product launch.
Utilizing InCrowd's real time market intelligence tool it's possible to:

Get market feed data fast
Query international physicians
Receive feedback during the launch dark period
These use cases represent a sampling of the many ways a company can use the InCrowd platform. For more information, visit http://www.incrowdnow.com/what-we-do/.
About InCrowd
InCrowd's on-demand platform provides direct and immediate access to Crowds of screened and targeted healthcare professionals. Crowd queries are fast, easy and specialized for the healthcare industry. Micro surveys facilitate fast response rates, while specialized crowdsourcing provides answers within hours, even minutes. InCrowd is the only company offering healthcare focused real time market research.