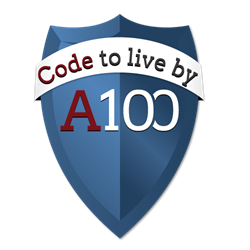 New Haven, Conn. (PRWEB) April 28, 2015
Apprentice100 (A100), the apprenticeship program that trains aspiring software developers and matches them with local companies for hire, today announced the placement of two apprentices with local companies.
In December of 2014, A100 apprentice Nick Aponte was hired as a full-time field service engineer by New Haven's Square 9 Softworks. Aponte was an apprentice during the A100 program's third cohort, during the summer of 2014.
Blake Praharaj, another A100 apprentice, was hired as a full-time software engineer by Branford's Core Informatics. Praharaj was an apprentice during the A100 program's third cohort, during the summer of 2014, and worked for Core Informatics part time while finishing his master's degree in computer science at University of New Haven.
"We're excited that both startups and larger firms like Core Informatics, Square 9 Softworks, and the CBIA have experienced the power of the program," said Derek Koch, CEO and founder of Independent Software, the firm that created A100. "While I started this program to help other entrepreneurs, we're finding that it resonates with lots of firms using software to solve important problems."
The program, currently in its fifth iteration, takes up to 30 aspiring software developers through a 12-week program of training, coaching, and project-based work, and matches them with local companies in search of their unique skills.
As a trendsetting software development firm, Square 9 has become the creative force in the next generation of cloud-enabled content management solutions allowing organizations of all sizes to embrace the reality of a paperless office.
"The A100 program gave me full stack experience, and better technical communication and teamwork skills," said Aponte. "I knew a little about developing web applications, but not how the parts really connected. The program gave me a foundation as a software developer that complemented my college experience, and introduced me to Square 9 Softworks."
"Nick came to us with a strong base of knowledge that's extremely relevant to what we do and how we work," said Brian Banet, chief technology officer of Square 9. "From project management and agile development, to deep-dive experience with current web technology, Nick had a background that would be difficult to achieve elsewhere. The exposure to technology and development practices Nick gained through A100 made him an ideal candidate for Square 9."
Core Informatics delivers web-based LIMS software to customers in a variety of industries. Core Informatics' clients use the company's software and expertise in their efforts to discover cures for devastating diseases, to pioneer next-generation genetic sequencing and the dawning era of personalized medicine, to formulate new sources of renewable energy and to create new and innovative industrial and consumer products.
"I knew I needed to start working my way into the software development field," said Praharaj. "I chose apprenticeship with A100 over an offer to work in a tech support position. A100 put me on track to be a software engineer; it was the first time I bet on myself, and it paid off."
"To be a successful software engineer at Core Informatics you need to have skills beyond just programming," said Vico Minnnocci, manager of software engineering at Core Informatics. "Understanding the merits of Agile, continuous integration and deployment, source control, and effective communication is a must. Blake exhibits all these qualities above and beyond."
While working at Core Informatics, Praharaj has returned to A100 as a senior apprentice for the winter 2015 cohort, to serve as a coach and mentor to other apprentices in the program.
If you're interested in how the A100 Program can accelerate your career in software development, visit http://apprentice100.com to learn more. For more details on how to become a partner company like Square 9 Softworks and discover great local talent for your growing company, contact us at info(at)indie-soft(dot)com.