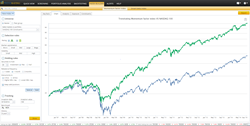 Our Index Builder was conceived to provide very transparent and measurable momentum metrics which are easy to integrate into any investment decision proces
London and New York (PRWEB) September 12, 2014
Trendrating, a provider of innovative momentum factor analytics for global investment managers, today announced the availability of a premium Index Builder module to the Trendrating Momentum Analytics Platform (TMAP). The Index Builder is structured with a broad range of features to support alpha capturing strategies for active managers as well as smart beta models for index fund managers. Index Builder enables Chief Investment Officers, Market Strategists and Portfolio Managers to create momentum factor portfolios and indices with the ability to optimize the selection and weighting of securities according to criteria like market cap or volatility. Trendrating has spent five years developing a new paradigm for fund managers to benefit from momentum factor analytics and strategies.
Rocco Pellegrinelli, CEO of Trendrating commented, "Our service is designed to enable the adoption of robust momentum factor analytics for portfolio management. The positive contribution of Momentum strategies to investment performance is well proven by prominent academics as well a number of leading equity fund managers. The interest in momentum investing is growing even amongst pure value players. In the past incorporating momentum within most investment styles has been a difficult balancing act. Our Index Builder was conceived to provide very transparent and measurable momentum metrics which are easy to integrate into any investment decision process. Our customers are able to either create momentum strategies or build momentum indices with total flexibility in terms of focus by investment universe, market cap, volatility, rebalancing factors and more and test the results on the fly."
Trendrating provides proven momentum models and the most flexible technology to profit from the power of the momentum factor. Over 100 customers use Trendrating to identify opportunities, monitor portfolio risk, create strategies and build custom momentum baskets and indices. Trendrating is a perfect complement to most investment styles, adding intelligent analytics to maximize returns and mitigate risk. TMAP is web-based and hosts a 10 year database of Ratings on over 20,000 stocks, commodities, currencies, ETFs and Indices with an impressive 80% success ratio at identifying price moves greater than 5% over a prolonged period.
About Trendrating
Trendrating S.A. develops innovative momentum factor analytics which help professional investors to outperform industry benchmarks. Our multi-factor model has been back-tested over 25 years on 500,000+ time series covering 20,000 Stocks, Currencies, Commodities, Indices and ETFs. Trendrating is pioneering a modern approach to measuring momentum which asset managers can be leverage for alpha capture and smart beta. With offices in London and New York, Trendrating is funded by Angelic Ventures. For more information, please visit http://www.trendrating.net.