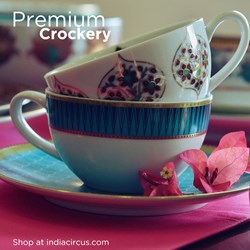 Create Curate Contemporary Culture
(PRWEB) December 19, 2013
This festive season IndiaCircus, the home-décor, lifestyle and personal accessories label headed by the brilliant Krsna Mehta, reveals its latest collection of Dinnerware.
With a range of products from table mats, crockery, trays and lots more, these products will definitely make your festive dinner into a beautiful experience.
The dinner table just became elegant with the range of table mats and napkins. Beautifully designed with motifs which range from peacocks to lotuses, these products make the dinner table look exquisite. To further make the dining table the centerpiece, try the collection of table runners. With pretty patterns, these table runners are one of a kind.
Pay attention to the smallest of details for that perfect Christmas dinner. The range of coasters is the perfect place to place glasses. The coasters come in a variety of designs and are colorful and bright. Pair the coasters with the range of glasses which are elegant and refined. The glasses come with delicate engravings and are definitely a must have.
Also the latest range of premium crockery is just perfect for classy dining experience. The crockery is a contemporary take on traditional designs and has beautiful patterns of flowers and foliage which make this collection exquisite. With plates, charger platters, bowls and so on the crockery is available both as a collection and as individual pieces. The gorgeous crockery is perfect for a classic festive gifting.
IndiaCircus is a design house which believes in attention to detail. Each thing that we design has to be something unique and precious. It is this design ideology that makes every product of India Circus a true pride and pleasure to own. For more details log onto in indiacircus.com