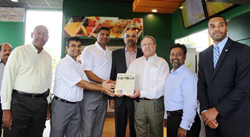 The event began with a welcome speech from [COO George Eapen], followed by the lighting of the ceremonial lamp to signify "giving life" to the new location.
Houston, TX (PRWEB) October 15, 2014
After a successful opening of their first location in Houston, TX, dgn Factory is growing and expanding with a new location in Missouri City, TX. The restaurant, formerly known as the Dosa Factory, celebrated the grand opening of its second location on Friday, Sept. 19.
The partners of dgn Factory, CFO Deven Bhatka, COO George Eapen and CEO Niraj Shah (after whom dgn Factory is named) welcomed Missouri City Mayor Allen Owen, Mayor Pro Tem Robin Elackatt and other guests to join them in a ceremony for the new location. The event began with a welcome speech from Eapen, followed by the lighting of the ceremonial lamp to signify "giving life" to the new location.
dgn Factory has experienced much success in the past year as one of the most favorite restaurants for 2013 in the United States; they have plans for continued expansion both nationally and internationally. Now with two locations, one in a strip center on Richmond Avenue in Houston, TX and a stand alone building in Missouri City, TX, a third location is now being completed in the Downtown Tunnel System, which is scheduled to open Fall 2014. There are also plans for two food trucks in Houston, and dgn Factory will be accepting offers for franchising starting in 2016.
Mayor Owen is happy that dgn Factory has chosen Missouri City for their second location and promises full cooperation from city officials to make sure that dgn Factory runs successfully. For more information about dgn Factory, visit their website at http://dgnfactory.com/.
About the company:
Looking to satisfy cravings for Indian cuisine? Visit dgn Factory in Houston for a truly authentic experience and enjoy some of the most ancient dishes in the world. Established by Niraj Shah, co-owner of a successful, family-owned Indian restaurant, dgn Factory specializes in savory crepes called dosas. Shah took his experience selling freshly-made dosas in a food booth at the George R. Brown Convention Center and expanded the concept into a full-fledged restaurant where diners can learn about the history of their order while watching it being prepared.
As one of the best Indian restaurants in the area, dgn Factory stands out from the average establishment in quality, excellence, service and concept. Whether it is North Indian in Saag Paneer and Paneer Tikka Masala or Indo-Chinese in Chilli Paneer and Gobi Manchurian, customers will know all about their special dish by the time their experience at dgn Factory is over.
Locations:
1. dgn Factory,5959 Richmond Ave., Suite 160, Houston, TX 77057
Ph.713-781-DOSA (3672)
2. dgn Factory,6324 Highway 6, Missouri City, TX 77459
Ph.281-499-DOSA (3672)