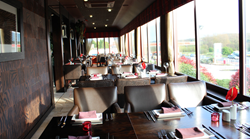 Because the restaurant is not part of a chain and is totally independent and unique it's important the campaigns send out this message out loud and clear
(PRWEB) June 30, 2014
A series of campaigns have been planned and will be kick started in July with a competition for Cafe Simla. The Prize will be a meal for two in the indian fusion restaurant.
The series of campaigns have been devised by marketing specialist Think Cloud Studio's Andrew Maynes. "Having worked with the restaurant closely for the last few months and delivering their new website in May the campaigns have been created to confirm the restaurants unique status in the Midlands" say Maynes. The campaigns will focus on a previous prestigious award won by the restaurant. The award symbolises how unique the restaurant is in the local area. "Because the restaurant is not part of a chain and is totally independent and unique it's important the campaigns send out this message out loud and clear" says Maynes
The campaigns will be simple. 'There is only one Cafe Simla. And it can only be found on the A5 in Dordon, Tamworth'
For more details on the marketing campaign please contact Think Cloud Studio by visiting the website or calling 01827 714753.