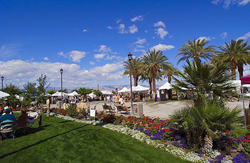 Every year the creative energy of this remarkable and expansive art festival absolutely amazes everyone.
Indian Wells, CA (PRWEB) April 02, 2015
Brad Schmett, Broker Associate with Luxury Homes by Keller Williams today announced that the upcoming Indian Wells Art Festival to be held at the magnificent Indian Wells Tennis Garden, a $75 million state-of-the-art venue, will be a substantial boost for area real estate thanks to projected record attendance and the merging of the 2nd Annual Objet Trouve Found Art Festival with this event for the first time this year.
Although there will be more than 200 award-winning artists exhibiting mixed media works of art organizers have announced that 50 artists will exhibit and create one-of-a-kind artworks for sale in the distinguished tradition of celebrated artists such as Pablo Picasso, Man Ray, and Marcel Duchamp. The Indian Wells Art Festival prides itself on having something for everyone including paintings, ceramics, photography, jewelry, sculpture, glass, apparel, and even handcrafted one-of-a-kind items. Artists will be present and available for questions and inquiries.
Schmett commented that, "Every year the creative energy of this remarkable and expansive art festival absolutely amazes everyone. Located so close to La Quinta, which is an art haven second to none, it is a perfect venue for an artistic gala of this caliber. There are plenty of good reasons why world-class artists from around the world make their home right here in the Coachella Valley. My team and I are looking forward to meeting new neighbors, as we know many art patrons will be on the lookout for new homes. It is our pleasure to welcome each one of them.
The festival will be open 10 AM to 4 PM, on all three days, with a special champagne brunch offered on Easter Sunday. Valet parking is available and tickets may be purchased at the gate.
For more information on the Indian Wells Art Festival visit http://palmspringsrealestateinfo.com/ps/13th-annual-indian-wells-art-festival.
To find out more about investing in Indian Wells, CA real estate visit http://indianwellsrealestateinfo.com.
About Luxury Homes by Keller Williams: Luxury Homes by Keller Williams – La Quinta, is an exclusive, elite and sophisticated group of real estate consultants raising the bar for service in the upper-tier La Quinta and Palm Springs area residential real estate market.