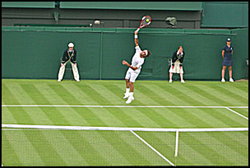 The BNP Paribas Open is one of the signature events of the year and as such, always draws enormous crowds.
Indian Wells, CA (PRWEB) March 08, 2016
Brad Schmett, Broker Associate with Luxury Homes by Keller Williams today announced that the 2016 BNP Paribas Open will have a substantial impact on local real estate thanks to the world-class status of the event. Visitors are projected to remain in town for two weeks while enjoying the event and adding to their real estate portfolios in the Indian Wells, Palm Desert and La Quinta areas.
The BNP Paribas Open is the largest two-week combined ATP World Tour Masters 1000 and WTA Premier professional tennis tournament in the world. Held annually in March, it presents the top professional players competing in a 96 single straw and a 32 double strong. With more than $10 million in prize money and each champion earning a million-dollar prize purse, it is one of the most well attended tournaments in the world. It is also the only professional tournament in the world that includes the Grand Slams. The luxury venue in Indian Wells makes this event particularly popular in the Coachella Valley thanks to art exhibits and fine dining on site.
Schmett discussed the event this week, "The BNP Paribas Open is one of the signature events of the year and as such, always draws enormous crowds. Fortunately, my team and I have an outstanding inventory of luxury homes to choose from. Now that prices are on the rise there has never been a more opportune time to purchase real estate ahead of the crunch. Interest rates are still low and we have terrific financing available. We expect to be very busy throughout the event and are looking forward to serving the community."
Mini packages, group packages, hotel vacation packages and daily tickets are all available with the classic packages allowing attendance for all 21 sessions.
For more information on the BNP Paribas Open visit http://www.bnpparibasopen.com/en/visit-us.
To find out more about investing in Indian Wells, CA real estate visit http://indianwellsrealestateinfo.com.
About Luxury Homes by Keller Williams: Luxury Homes by Keller Williams – La Quinta, is an exclusive, elite and sophisticated group of real estate consultants raising the bar for service in the upper-tier La Quinta and Palm Springs area residential real estate market.