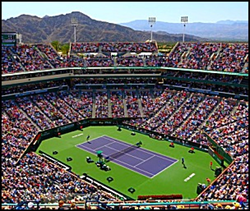 This is absolutely the premier tennis event of the year here in the Coachella Valley.
Indian Wells, CA (PRWEB) March 10, 2015
Brad Schmett, Broker Associate with Luxury Homes by Keller Williams today announced that the 2015 BNP Paribas Open will have a substantial impact on local real estate thanks to the world-class status of the event. Attendees are expected to snap up vacation homes and second residences while spending the week in the Indian Wells and La Quinta areas for the daily competition.
This will be the 40th Edition of the men's event and the 27th for the women and will be classified as an ATP World Tour Masters 1000 event on the 2015 ATP World Tour and a Premier Mandatory event on the 2015 WTA tour. Ticket packages for the event are highly coveted with the most expensive seating, the Front Box Seats Series-Stadium One package going for as much as $6,000 per seat. The BNP Paribas Open is the largest professional two-week combined ATP and WTA Tour Tennis Tournament in the world with 96 players in the singles and 32 teams in the double draws.
Schmett recently remarked, "This is absolutely the premier tennis event of the year here in the Valley and a projected sellout means that the local real estate community will be busier than ever as a substantial number of those in attendance will remain after the event to purchase luxury homes or add investment properties to their portfolios. The Indian Wells Tennis Garden is a magnificent venue and is one of the big reasons my clients enjoy living in the La Quinta area. It is our pleasure to welcome new friends and neighbors to the Valley each year."
Mini packages, group packages, hotel vacation packages and daily tickets are all available with the classic packages allowing attendance for all 21 sessions.
For more information on the BNP Paribas Open visit http://palmspringsrealestateinfo.com/ps/indian-wells-tennis-garden.
To find out more about investing in Indian Wells, CA real estate visit http://indianwellsrealestateinfo.com.
About Luxury Homes by Keller Williams: Luxury Homes by Keller Williams – La Quinta, is an exclusive, elite and sophisticated group of real estate consultants raising the bar for service in the La Quinta and Palm Springs area residential real estate market.