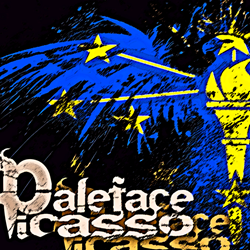 "The Indianapolis 500 weekend was the logical choice to launch this one of a kind song. The 500 is the largest single sporting event that we host annually here in Indiana." Travis Records owner, Travis Hickey
Indianapolis, IN (PRWEB) May 24, 2014
"Indiana Pride" by Paleface Picasso will make the entire state proud and his journey is equally impressive. The Indiana born rapper has made what will arguably be the state's best ever state event anthem. Paleface Picasso's story started over two years ago when he and his cousin decided to take a crack at the music industry. The story behind the music and artist, Eric Allred, better known as Paleface Picasso reads more like a movie script! The once all star athlete was recruited heavily by several division one baseball colleges, won his high school regional dunk contest, and probably should have played professional football. The corn feed Picasso stands at 6'3", weighs in at a stout 290 lbs., and once touted a 90+ mile per hour fastball. The movie "The Natural" portrays a young Roy Hobbs similar to the way in which Paleface Picasso's life was supposed to go.
Unfortunately, the athletic career of Paleface Picasso was overshadowed by a lust for alcohol and the lure of the street life. Choices made by a young man, resulting in a four year armed robbery prison term, five bullet wounds, two stab wounds, and a long list of regrets. Over time, the young man has been forced out and a new man formed filled with faith, love, and an appreciation for life. He has vowed to help kids stay away from the life he had once lived.
On the opposite end of the spectrum, his cousin,Travis Hickey, grew up working hard, playing college baseball, and obtained a college degree in business management. He has 3 businesses in their hometown of Muncie, IN of Indiana and is known for taking passionate business risks. He was just crazy enough to stick his neck into the risky music business. Hickey is quoted saying, "Fear of failure is the noose by which most people suffocate themselves. The defining day of my life was the day I quit choking myself and began to fail my way to happiness! I was 27."
The Indianapolis Colts have also signed a contract with the duo for a version of the hot new song as well. The Colts have not released details regarding its release, but the 2014season is sure to be a prideful one! Sports teams, radio stations, and proud Indiana residents are encouraged to play the song through the Memorial Day weekend. All proceeds from this weekends launch will be donated to the Indiana High School Athletic Association. Media: For more info or details, contact manager(at)palefacepicasso(dot)com.