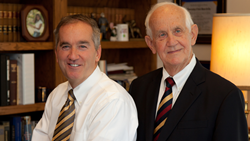 It is my belief that the voices of individual citizens are heard in the legislative process through the members of the Indiana Trial Lawyers Association.
Indianapolis, Indiana (PRWEB) November 13, 2015
The Indiana Bar Foundation has named personal injury lawyer, Donald W. Ward, as the 2015 Legendary Lawyer. The award was created to spotlight individuals whose career commitments in areas such as legal ethics, community involvement, public service, and lawyer professionalism demonstrate the high calling and higher achievement of lawyers. This annual award is presented to an Indiana Bar Foundation Fellow for their exemplary ethics and adherence to the traditions of the legal profession for a career spanning fifty years or more. Attorney Ward has been a practicing personal injury lawyer in Indianapolis for sixty years.
Ward was nominated for this honor by Richard Eynon of Columbus, Indiana and five other attorneys and judges from across the state of Indiana. The nominating committee included Robert Beasley of Muncie, Anthony Stites of Fort Wayne, Bryan Bradley of Valparaiso and the Honorable Leslie Shively of Evansville. None of the committee members has a personal or professional relationship with Ward.
The ceremony honoring Ward was held at the restored Indiana Landmarks Center on the near north side of downtown Indianapolis. Approximately 120 people gathered to share in the evening with Ward and his extended family. Members of the judiciary represented approximately 10 percent of the people in attendance. Those who paid tribute to Ward's achievements included Indiana Supreme Court Justice Brent Dickson, Indiana Court of Appeals Judge James Kirsch, the Executive Director of the Indiana Trial Lawyers Association, Mickie Wilson, and trial attorney and personal friend, Ellsworth "Derry" Rundlett who flew in from Maine to celebrate Ward's achievements.
It was an emotional evening when the speakers expressed their high regard for Mr. Ward's accomplishments and ethical approach to all aspects of his life, particularly in his legal career. When "Legendary Lawyer" Ward took the podium, he was humbled by the accolades and with a lump in his throat he said "I couldn't believe they were speaking about me."
Among the awards he has received during his stellar 60 year career in law, is the 2005 Sagamore of the Wabash Award presented by Governor Joseph E. Kernan, the Hoosier Freedom Award for distinguished service to the citizens of Indiana and the United States for dedication to the preservation of the rights and freedoms of all Americans and the 1996 Lifetime Director and Lifetime Achievement Award by the Indiana Trial Lawyers of America.
Ward has been a member of the Indiana Judicial Nominating Commission and Qualifications Commission, a voting board that sends high judicial nominations to the governor, from 1978-1984, 1993-1995, and 2001-2003, and is a past President of the Indiana Trial Lawyers Association from 1978-1979. When asked about his work with the Indiana Trial Lawyers, he said "It is my belief that the voices of individual citizens are heard in the legislative process through the members of the Indiana Trial Lawyers Association."
Ward does not publicly announce his client's settlement amounts or windfall jury awards. "The best advertising is done by the clients who walk in and out of our door" said Ward. "If we work hard, keep clients advised and treat them like we like to be treated, they will recommend us to their family and friends."
Today he practices law with his son, Charles "Charlie" P. Ward, at Ward & Ward Law Firm in Indianapolis. Ward's son, Charlie, has earned the 2016 "Super Lawyer" status and has been selected as a "Super Lawyer" for 12 consecutive years in the category of personal injury law. The selection process involves peer nominations and favorable evaluations combined with independent research for inclusion into the listing of outstanding attorneys which is used as a resource by attorneys and consumers searching for exceptional legal counsel. Only 1 in 20 lawyers licensed to practice in the state are included in the "Super Lawyers" registry.
Don and Charlie Ward are personal injury lawyers that focus their practices on serious injury and wrongful death claims including, but not limited to car accidents, motorcycle accidents, trucking accident, bicycle accidents and pedestrian accidents.
If you or someone you know has been injured or killed in an accident caused by the negligence of another person, call Indianapolis personal injury lawyers Charlie and Don Ward of Ward & Ward Law Firm at 317-639-9501 or 888-639-9501 today for a free consultation.