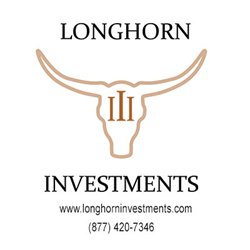 I could see there was a need for a reputable Indianapolis hard money lender in the market.
Indianapolis, IN (PRWEB) May 15, 2014
Longhorn III Investments likes to bring the real estate investing community together when it opens a new market for funding hard money loans. The idea is to give the real estate community an event where they can meet and network with Longhorn management, representatives, and other like-minded real estate investors in the local community.
The Indianapolis Hard Money launch party and networking happy hour will be on Thursday May 29th from 6:00 p.m. to 9:00 p.m. located at George's Neighborhood Grill: 6935 Lake Plaza Drive, Indianapolis, IN 46220. Appetizers and drinks will be served at no cost.
"This is the fun part about my job here at Longhorn," said Ryan Kimura, VP of Sales & Business Development of Longhorn III Investments, LLC. "I get a plan and host a networking happy hour party. We like having these launch parties to show the real estate community that Longhorn is here to help real estate investors in Indianapolis and have a good time doing it. We are here to be involved and an integral part of the growing real estate investor community in the greater Indianapolis area. We have long term goals and aspirations when it comes to operating in Indiana and we want to thank all of those partners, borrowers and investors who have made it possible for Longhorn to expand to Indianapolis. So, what better way to say thank you and we are open for business than a networking happy hour? Hopefully, it won't be the last event you see Longhorn host in Indianapolis this year. I have a good feeling it won't be."
Hard money lenders have varying philosophies when it comes to their borrowers. Longhorn III Investments, LLC describes themselves as somewhat of a partner in the real estate transaction. "Most money on any given deal is the lender's money. When we do a loan we want our borrowers to succeed and then come back and do it again. Our foreclosure rate is less than ½ of one percent due to our focus on making sure our borrowers are set up properly from the outset," stated Michael Hoffman, President and founder. "Additionally, we have a title company and law firm that allows us to be a unique Texas hard money lender, Missouri hard money lender and Indianapolis hard money lender. We are a one stop shop for real estate investing services which makes us a highly qualified partner that most other companies can't compete against."
"I am so happy this is coming to fruition after months of research, due diligence and conversations," stated Selina Stoller, Indianapolis Loan Consultant at Longhorn Investments. "I've been very active in the Indianapolis real estate community for years now. I have even done some private hard money loans myself but I could see there was a need for a reputable Indianapolis hard money lender in the market. When I was first introduced to Ryan Kimura and Michael Hoffman it was initially to be presenters on my monthly podcast for real estate investors. And because of their knowledge, experience and the positive reviews about their company I jumped at the opportunity to bring them to Indianapolis and be their local representative."
ABOUT LONGHORN III INVESTMENTS, LLC
Longhorn III Investments, LLC corporate office is located at 17950 Preston Road, Suite 230 Dallas, Texas 75252. They can be found at http://www.longhorninvestments.com or call 877.420.7346. Longhorn III Investments currently offers Texas hard money loans, Missouri hard money loans, Indiana hard money loans and has access to almost $28MM in capital to lend from its sister private equity fund, Trident Realty Investments.