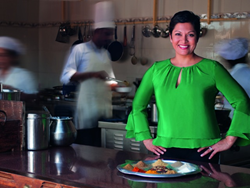 Anupy Singla aims to raise $30,000 to make her new cooking show, Indian As Apple Pie TV, a reality
Chicago (PRWEB) September 05, 2014
With over $15,500 raised and 11 days to go, Anupy Singla seeks to unwind the complexities of Indian cooking and reveal the healthy simplicity of the cuisine with her Kickstarter campaign. Together with Chicago-based company Indian As Apple Pie, Singla aims to raise $30,000 to make her new cooking show, Indian As Apple Pie TV, a reality.
Singla's Kickstarter campaign is hosted on Seed Chicago, microlender Accion Chicago's curated Kickstarter page, where she asks her thousands of avid followers to support Indian As Apple Pie TV. Seed Chicago highlights local, impactful small business and community development projects that create jobs and economic growth in Chicago's neighborhoods.
Singla's six-episode, 30-minute show will transport Americans to India with her years of travel and background in Indian culture and cuisine, adding to Indian As Apple Pie's longstanding repertoire of Indian cooking tools for Americans.
"Confusion is what holds people back from cooking Indian food – the spices, the health misconceptions, the hard-to-pronounce names," says Singla. "My goal is to fill the knowledge gaps and bring excitement and authentic simplicity to American kitchens."
With traditional Indian spice blends, mouth-watering recipes and delicious cookbooks that have sold over 100,000 copies, Singla's sole mission is to bring Indian cuisine to every home from New York City to El Paso. Singla, born in India and raised outside of Philadelphia, shows viewers Indian cuisine through the eyes of an Indian-American former broadcast journalist and mother of two daughters.
Visit Indian As Apple Pie's Kickstarter campaign at https://www.kickstarter.com/projects/1701187826/indian-as-apple-pie-tv for a preview of the show, and visit http://www.IndianAsApplePie.com, @IndianAsApplePie and Facebook for campaign updates.
About Indian As Apple Pie
Established in 2010, Indian As Apple Pie is the brainchild of award-winning journalist, cookbook author, health advocate, and television personality, Anupy Singla. Her sole mission is to make healthy, home-style Indian food, products, and recipes accessible to the masses. Anupy's third cookbook, Indian For Everyone, will be released this Fall 2014. Her first cookbook, The Indian Slow Cooker, is the number one best-selling Indian cookbook in North America since it was released in 2010. Her second book, Vegan Indian Cooking, was released in 2012 with much acclaim. On her website, http://www.indianasapplepie.com, Anupy writes about growing Indian in America and posts recipes. The company is headquartered in Chicago.
About Seed Chicago
Seed Chicago is a direct result of the Plan for Economic Growth and Jobs, developed by WBC at the request of Mayor Rahm Emanuel last year in order to accelerate Chicago's economic growth. A central plan strategy is to nurture neighborhoods and foster continuous development of local talent, business and real estate assets. Seed Chicago is one of the tools the City of Chicago and WBC uses for financing businesses and organizations within Chicago neighborhoods. Learn more on the Seed Chicago FAQ page or by following @AccionChicago or #SeedChicago on Twitter. Accion Chicago is an alternative lending organization dedicated to providing credit and other business services to small business owners who do not have access to traditional sources of financing.
# # #
For more information contact:
Gardi Wilks, gardi(at)wilkspr(dot)com
Sarah Gadway, sarah(at)wilkspr(dot)com
708-434-5006