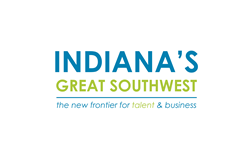 From leveraging the new Indiana University led multidisciplinary health science campus to redefining urban living, Southwest Indiana's plan represents the most achievable and meaningful return on investment
Evansville, Indiana (PRWEB) October 09, 2015
Seven Indiana regions, which plan to invest $3.78 billion in more than 420 cultural and livability projects across the state, presented their formal Regional Cities Initiative proposals to the Strategic Review Committee on October 6 and 7 for consideration of state matching funds of up to $42 million for the two chosen regions.
The Indiana Regional Cities Initiative encourages neighboring communities to work together to develop vision and action plans to create a quality of place that attracts and retains future generations of Hoosiers. The Strategic Review Committee will present funding recommendations to the Indiana Economic Development Corporation Board of Directors in December.
"We framed our story well," said Evansville Mayor Lloyd Winnecke, who led off the region's presentation. "Our vision is clear, bold and transformational. From leveraging the new Indiana University led Multi-Institutional Academic Health Science Education and Research Campus to redefining urban living, Southwest Indiana's plan represents the most achievable and meaningful return on investment for Indiana."
Southwest Indiana's presentation focused on four specific projects contained in its plan, which included embedding clinical research into the new multi-institutional health science education & research medical campus; continued development of the Warrick Wellness Trail– a targeted medical and life science district; upgrading Evansville Regional Airport's passenger terminal; and, development of the Working Lab for New Urban Living – a new urban living space to be developed in partnership with global appliance leader Haier, electric and natural gas utility Vectren, the City of Evansville and a private developer.
"Southwest Indiana is a community deeply committed to its own success with a proven track record," stated presenter Bob Jones, President & CEO for Old National Bank, Indiana's largest based bank. "Southwest Indiana knows the value of collaboration and Regional Cities allows for us to build upon a great foundation."
The Southwest Indiana presentation team included live and taped comments from key public and private sector leaders. The team members are listed below in order of appearance:
Lloyd Winnecke, Mayor City of Evansville;
Greg Wathen, President & CEO Economic Development Coalition of Southwest Indiana;
Dr. Jonathan Rich, Chairman & CEO Berry Plastics;
Beth McFadin Higgins, Attorney at Law McFadin Higgins & Folz, LLP;
Bob Stemple, Senior Human Resources Manager SABIC;
Dr. Linda Bennett, President University of Southern Indiana;
Dr. Steven G. Becker M.D., Director & Associate Dean Indiana University School of Medicine –Evansville;
Jean Hitchcock, Executive Director, Principal Signature School;
Larry Taylor, Executive Director Success Warrick County;
Doug Joest, Executive Director Evansville-Vanderburgh Airport Authority District;
Kyle Fields, General Manager SS&C Technologies, Evansville;
Wayne Steele, General Manager Research & Development Haier America;
Robert C. Sears, V.P, VUHI-Customer Energy Solutions Vectren Corporation;
Brandon Scott, Director of Brand Strategy & Digital Ten Adams;
Mark Thompson, Director of Operations Evansville Vanderburgh School Corporation;
Alissa Fricke, Owner Thrive Marketing Strategies; and,
Robert G. Jones, President & CEO Old National Bank
The Coalition helped to fund the plan developed by Lochmueller Group, Garner Economics and VPS Architecture. The strategy of Indiana's Great Southwest is building a new frontier for talent through innovation, creativity and entrepreneurship. The region's plan contains 19 projects in all.
Seven regions throughout Indiana submitted proposals to gain the honor of being named a regional city and receiving up to $42 million for its talent-driven projects. You may view Southwest Indiana's presentation here.
About the Economic Development Coalition of Southwest Indiana
The Economic Development Coalition of Southwest Indiana acts as the marketing arm as well as the regional economic development and community development organization for Gibson, Posey, Vanderburgh, and Warrick Counties in Southwest Indiana. The Coalition works with its local county economic development organization partners to facilitate attraction and business retention activities along with supporting efforts to enhance the business climate through regional capacity building. Since its formation in late 2006, the Coalition has helped to secure over $4 billion in new investment and more than 6,500 new jobs from existing and new companies such as Haier America, Berry Plastics, Mead Johnson, Toyota Boshoku, Midwest Fertilizer Corporation and AT&T.
Another important aspect of the Coalition's multi-faceted job description is helping the communities it serves build new capacity for future development in its role as a regional planning organization. The Coalition has helped secure than $74 million in grants for key quality of place infrastructure such as expansion of water and sewer systems; building new community centers; and, making improvements to the region's levee system, which protects thousands of acres along America's inland waterways.