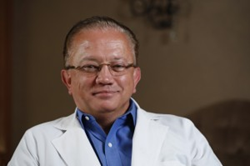 'Worn, 'sharp' teeth caused by an eating disorder affect the look and function of your mouth, bite, jaw and teeth,' Dr. Receveur said. 'We can help with solutions such as implants, crowns and veneers to restore smiles destroyed by eating disorders.'
New Albany, IN (PRWEB) April 22, 2014
New Albany dentist Dr. Ron Receveur is warning the public of the dental dangers of bulimia as Easter approaches.
The National Eating Disorders Association says 20 million women and 10 million men in the United States suffer at some time in their life from a clinically significant eating disorder, including bulimia, binge eating disorder and anorexia.
With the number of family dinners and sweets consumed around Easter, those with eating disorders may be more inclined to binge and purge.
Bulimia and anorexia affect overall health and well‐being. One sign of bulimia is filed‐down, sharp-looking teeth due the acid erosion from chronic purging after eating.
"Worn, 'sharp' teeth caused by an eating disorder affect the look and function of your mouth, bite, jaw and teeth," Dr. Receveur said. "We can help with solutions such as implants, crowns and veneers to restore smiles destroyed by eating disorders."
Dr. Receveur, one of Louisville's best cosmetic dentists, provides smile dental care such as teeth cleanings, fillings, crowns, extractions and root canals. He also provides more advanced implant and cosmetic dentistry like teeth whitening, veneers, dental implants in one day, dental implants in one hour, All on Six and All on Four dental implants, bone grafting, and sinus lifts, all with IV sedation dentistry.
A native of New Albany, Ind., Dr. Receveur earned his doctorate in Dental Surgery from the Indiana University School of Dentistry after graduating from Indiana University Southeast with honors in chemistry. He has served Southern Indiana and Greater Louisville residents since 1981.
Dr. Receveur participates in extensive continuing education, earning more than 5,000 hours of postgraduate training. He has earned advanced certifications in Restorative, Comprehensive, Implant, Sedation and Aesthetic Dentistry to provide the most current dentistry to his Louisville and New Albany dental patients.
For those in and around New Albany affordable cosmetic dentistry is available at NewAlbanyImplants.com.