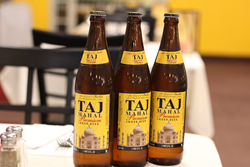 It's something our guests have asked for so we are happy to now be able to provide it.
Fairport NY, Rochester NY, Buffalo NY (PRWEB) September 30, 2014
Remarkable Indian food served in an electric environment. What could be better? Well for Tandoor of India Fairport, who provide both of these things in ample proportions it's also being able to serve alcohol to their valued guests. And that's now the case. Recently, the restaurant announced that they've been given their liquor licenses and now are serving alcoholic beverages along with their acclaimed menu. Guests have been quick to voice their appreciation.
"This is really a milestone for us and it will allow our restaurant to deliver an even better experience for people who would a drink with dinner," commented Rajwinder Singh, owner and Head Chef of the restaurant. "It's something our guests have asked for so we are happy to now be able to provide it."
In addition to a remarkable menu of authentic Indian food, which has earned Tandoor of India a constant flow of positive reviews, the restaurant has also added other special twists to their service. One very popular feature has been live Bhangra dances celebrating an very exciting part of Indian culture. The restaurant has even hosted cooking classes. Both of these events are expected to continue along with other special surprises.
Owner Singh, remarked, "It is not only the food, but also bringing Indian culture to the plate. How do we do this? By trying to bring a lot of activities like Indian traditional dance events. We're happy that these have been so successful."
As a special outreach program, the restaurant even offers free food tastings at local offices. The thought is to open up the local community to the wonders of very well executed Indian food and to share the Chef's passion with people who may not have had a chance to explore their menu yet. This unique effort has gone a very long way to build bonds in Rochester, and to raise awareness of the joy of Indian food and culture.
Local offices who would like to arrange a free tasting are encouraged to contact the restaurant and speak to a manager.
The restaurant is happy to offer a lunch buffet everyday, and a special dinner buffet every Wednesday evening from 4:30 PM to 9 PM.
Reviews for Tandoor of India Fairport continue to be resoundingly positive.
Jenn K., from Fairport, recently said in a five star review, "Great dinner tonight! A welcome addition to the Perinton/Fairport restaurant scene. Helpful staff let us easily choose several vegan dishes. Generous portions left us full. My husband's first time trying Indian cuisine and he was impressed all around. We'll be back. .. soon!"
The restaurant is located at 6720 Pittsford Palmyra Rd (in the Perinton Square Mall), Fairport NY 14450.
For more information visit http://tandoorofindia.com or call (585) 678-9540. Or Connect with Facebook at https://www.facebook.com/Tandoorofindiafairport