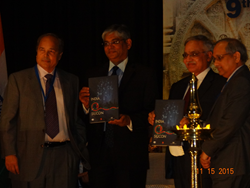 "Closer synergies between India and Silicon Valley are inevitable as both sides look to each other for sources of growth."
SAN JOSE, Calif., (PRWEB) November 17, 2015
The success of Indian-Americans in Silicon Valley today spans a number of sectors, specifically within the technology arena. The Indus Entrepreneurs (TiE) and Confederation of Indian Industry (CII) have jointly unveiled today a new keepsake book, "India Rising @ Silicon Valley".
The book chronicles the many successes of Indian entrepreneurs and the impact they have made on the world. Some of them have gone on to become philanthropists giving back to India and to the community. The book highlights the journey and personal anecdotes of the selected executives and entrepreneurs giving readers a glimpse of various journeys encountered on the road to success.
Chandrajit Banerjee, director general of CII, stated that "The contributions of Indian Americans from Silicon Valley run both ways and this book is a small sample of their achievements. We hope it will inspire technology entrepreneurs in India to realize their aspirations for success."
"As President of TiE Silicon Valley, I am very proud of TiE's role in the enormous collective success of this group," stated Venktesh Shukla, president, TiE SV. "It was formed in 1992 as a networking group and to foster entrepreneurship with the founding principle that successful people have an obligation to help the next generation of entrepreneurs. We have succeeded beyond our wildest expectations."
A study conducted by Professor Vivek Wadhwa in 2014 noted that Indians constituted the greatest number of the immigrant tech-company founders, having founded more startups than immigrants from all other nations combined.
Various Indian entrepreneurs, executives, and philanthropists are featured in the book. They are:
Satya Nadella, CEO, Microsoft
Shantanu Narayen, President & CEO, Adobe
Nikesh Arora, President and COO, Softbank Corp.
Vinita Gupta, Co-founder, Digital Link Corp.
Vinod Khosla, Co-founder, Sun Microsystems
Sanjay Mehrotra, Co-founder and CEO, SanDisk
Sundar Pichai, CEO, Google, Inc.
Prabhu Goel, Founder, Foundation for Excellence
Talat Hasan, Co-founder, India Community Center
Lata Krishnan, Chairman, America India Foundation
Kumar Malavalli, Co-Founder, Brocade Communications
Suhas Patil, Founder, Cirrus Logic
Vivek Randiive, Founder Tibco
Kanwal Rekhi, Managing Director, Inventus Capital Partners
Premal Shah, President, Kiva.org
Ram Shriram, Early Investor & Board Member, Google
Romesh Wadhwani, CEO, Symphony Technology Group
Although many Indian managers are not company founders, they have climbed the ranks to achieve managerial and influential positions within their companies, as noted by many of the Indian entrepreneurs in "India Rising @ Silicon Valley". The following is an excerpt from "India Rising @ Silicon Valley":
"Closer synergies between India and Silicon Valley are inevitable as both sides look to each other for sources of growth. In a knowledge-based global economy, each side will continue to inspire and learn from the other. The 'protocols' of the Indian American community in Silicon Valley and its engagement with India are rapidly being redesigned and will continue to amaze the world."
About TiE Silicon Valley
TiE Silicon Valley is a not for profit organization dedicated to fostering entrepreneurship in the Bay Area, as well as globally. TiE strives to inspire entrepreneurs through mentoring, networking, education, incubating and funding programs and activities. With nearly 50 events held each year, TiE brings together the entrepreneurial community to learn from local leaders, as well as each other. For more information, please visit our web site at http://sv.tie.org.
About CII
CII is a non-government, not-for-profit, industry-led and industry-managed organization, playing a proactive role in India's development process. Founded in 1895, India's premier business association has over 7,900 members from the private, as well as public, sectors, including SMEs and MNCs, and an indirect membership of over 200,000 enterprises from around 240 national and regional sectoral industry bodies. For more information, please visit our web site at http://www.cii.in/.