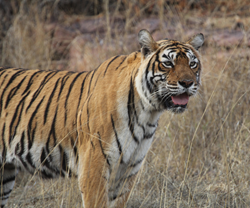 We searched for two days, up and down magnificent countryside, seeing every other mammal possible, until lwe came around the corner, and there SHE was. We saw not only a tiger, but Machli, a very famous tigress, just lying in the road.-Tour participant
Chicago, IL (PRWEB) August 31, 2014
India is home to one of the world's greatest kaleidoscopes of birds, wildlife, and culture. This tour is designed to highlight the nation's incredible biodiversity, providing time afield in wild places that contrast the hustle and bustle of India's vibrant cities, so often the core of organized tours.
Tour participants will enjoy a deep exploration of the Ranthambhore National Park in search of the endangered Bengal Tiger. Over the last two decades, poaching has done severe damage to this magnificent species, but the park's population is now growing. Over three days, travelers hope to witness magnificent tigers in the wild as well as abundant wildlife now thriving due to India's commitment to conservation.
Naturalist Journeys' India Wildlife and Birding Safari enables travelers to see the nation's most colorful and significant birds in a broad array of habitats. Novel transport is used at Bharatpur, where participants bird from the back of a rickshaw, driven by expert bird guides, locals working in conservation – some for decades. Travelers explore by boat as they float down the Chambal River in search of highly endangered Indian Skimmers, Bonelli's Eagles, endemic Gharial and huge Mugger Crocodiles. On an extension to northeast India, tour participants can experience Manas National Park from vehicles or with an option, from the back of an elephant, while spotting Red Headed Trogons, Himalayan Eagle Owls, and possibly Blue-naped Pittas - with the possible sighting of Bengal Tigers.
Naturalist Journeys owner Peg Abbott chose to time the tour group visit for sunrise at the Taj Mahal, when the light perfectly bounces off the majestic marble structure. "The Taj Mahal is one of the most impressive sights on earth, and we have found that it's the perfect complement to wilderness exploration," says Abbott, the company owner and founder who has traveled to seven continents.
Participants in the India Wildlife and Birding Safari are invited to extend their stay with an optional trip extension to Manas National Park, a UNESCO World Heritage Site. The park is situated in the foothills of the Himalayas and hosts Indian One Horned Rhinoceros, Bengal Tiger, Mongoose, Asiatic Leopard, and Wild Water Buffalo.
Travelers will also experience local culture and cuisine. During select time in India's bustling cities, visitors can explore markets, sample cuisine at local restaurants, and spend an evening dining in the home of a local resident.
More on Naturalist Journeys' India: Wildlife and Birding Safari:
The main tour begins and ends in New Delhi India. It is limited to 12 persons. Avigit Sarkhel, of India, is the expert local guide, aided by biologists at various parks and preserves. Sarkhel is a widely knowledgeable and passionate birder, naturalist, and guide with more than fifteen years' experience. A full itinerary can be found at: http://www.naturalistjourneys.com/jcalendar/jc_india15.htm.
About Naturalist Journeys
Naturalist Journeys is a nature-travel company based in Portal, Arizona. They strive to support eco-tourism throughout the U.S. and beyond, through small-group guided journeys, often in co-operation with local non-profit groups and communities. Visit their website at http://www.naturalistjourneys.com or request a free brochure by email on the company website, or by calling toll-free: 866 900-1146.