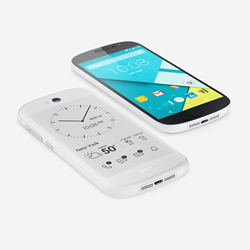 We are stoked to begin our Indiegogo campaign and to be one step closer to delivering YotaPhone2 to North America
Hudson Valley, New York (PRWEB) May 19, 2015
Yota Devices Americas Inc. announced today that the YotaPhone2, the world's first dual-screen smartphone with an E-Ink display, began its highly anticipated Indiegogo Campaign, inviting supporters to reserve their YotaPhone2 to support their North America launch this Summer 2015. The campaign can be found at: http://igg.me/at/yotaphone2
Slim, powerful and beautiful, YotaPhone2 combines Android familiarity with something that has never been accomplished before: two fully touch-enabled displays with two very different personalities. The front display is a high-definition 1080p AMOLED screen, perfect for everyday use of social networking, browsing, watching videos or playing games. Turn YotaPhone2 around and you'll see the other front screen, which uses an Electronic Paper Display (EPD) that is 'always on', ideal for reading in direct sunlight and is up to 7x more power efficient than HD color displays.
Best of all, YotaPhone2 provides customizable dashboards via YETI 2.0 (Yota E-Ink Technology Integration) that can be setup with 'at a glance' widgets for email, social media feeds, e-books, fitness tracking or photos with no interaction required. This solves a major problem with single screen smartphones that keep you 'in the dark' on important information in order to save battery life, which require you to pick up your device, wake it up or unlock it and navigate to the application that you need. On the flip side, the YotaPhone2 'always on' display puts that information in front of you with little power use and thus increases your battery life from hours to days of use, including up to five days of e-reading from a single charge.
The Indiegogo campaign's $50,000 goal will finalize the necessary certifications and regulatory fees required to launch in North America and will feature the YotaPhone2 in both Black and White. Throughout the 60-day campaign, backers will be able to pre-order the YotaPhone2 for as low as $500 ($100 off the MSRP) for a limited edition perk that includes a three month subscription to BookMate and a special Bumper case. In addition to YotaPhone2, backers will also have the opportunity to purchase the Yota Wireless Power Bank for on-the-go wireless charging for the special Indiegogo price of $50.
"We are stoked to begin our Indiegogo campaign and to be one step closer to delivering YotaPhone2 to North America" said Matthew Kelly, Managing Director, Americas. "It's not easy for a startup smartphone manufacturer to bring true innovation and disruptive technology to consumers. Indiegogo provides us the perfect platform to reach our loyal supporters and grow our fan base by providing excellent presale opportunities, the ability to showcase our unique product features and alliance partners, while ultimately allowing us to generate the funds necessary for our Summer 2015 launch."
The Indiegogo campaign will also be a sneak peak to the new Android 5.0 Lollipop software updates that will be rolling out to YotaPhone2 this summer. This will include updates to the YotaHub, YotaCover and YotaEnergy services as well as new features like YotaFitness, YotaRemote, YotaNotes and YotaSports. There will also be new full screen widgets for Facebook, Twitter and Instagram feeds and new alliance partner applications developed exclusively for YotaPhone2, including BookMate, Stay Tuned, Psy(x) Audio, MusixMatch, Every post and Instant plus many more new features and alliance partners that will be announced throughout the campaign.
In 2013, the YotaPhone1 "proof of concept" was introduced to the world and racked up "Best of CES" awards, "Cannes Lions Innovation" award and overwhelming positive reviews from the wireless industry media. After crowdsourcing feedback from users and industry experts, the YotaPhone2 was introduced in December 2014 and is thoroughly redesigned, featuring new, modern styling, upgraded software and larger, higher resolution displays on both front and back. Like its predecessor, it was also decorated with multiple awards including the recent "Envisioneering's Innovation & Design Award" at ShowStoppers and "Top Picks" from Android Authority and GeekBeatTV at CES 2015. The tech industry press have given YotaPhone2 top grades across the board and Forbes went so far as to call it the "Most Disruptive Smartphone of 2014."
YotaPhone2 doesn't stop at innovation as it also comes fully loaded with Android OS, Qualcomm Snapdragon 801 Quad-core, 32GB memory, 2GB RAM, 8MP camera, Wireless Charging, Qualcomm Fast Charge 2.0, Bluetooth 4.0, NFC, WiFi (a/b/g/n/ac), Corning Gorilla Glass 3, 5" Samsung AMOLED screen, 4.7" E-Ink screen and is 4G/LTE ready on GSM networks in North America.
Yota is a private international company dedicated to the development and production of high-tech consumer LTE electronics such as smartphones, modems and routers. Its latest product, YotaPhone 2, is the world's first "two-front" smartphone with the Yota Always-On Display is currently available in 20 markets across Europe, the Middle East, Africa and Asia. Renowned carriers such as Vodafone, Hutchison, America Movil and Congstar recently included YotaPhone2 in their portfolio in selected markets. Yota has been recognized for its innovation with numerous awards at GSM Mobile World Congress 2014 and the Golden Lion in the Innovations category at the international festival Cannes Lions. The company has offices in Europe, Asia, Middle East and North America. Please visit the company website for more information: http://www.yotaphone.com.