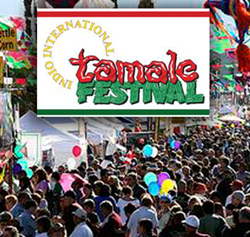 The Tamale Festival came about thanks to the downtown Indio Merchants Association and gets bigger and better each year.
Indio, CA (PRWEB) December 03, 2015
Brad Schmett, Broker Associate with Luxury Homes by Keller Williams today announced that the annual Indio International Tamale Festival set for 10 AM to 8 PM on Saturday and 10 AM to 5 PM on Sunday in Old Town Indio will bring in thousands of home shoppers and investors over the first weekend of December.
The event started in 1992, thanks to Dave Hernandez, a local merchant and attracts a 100,000+ crowd every year who line up for the widest variety of handmade tamales to be found anywhere in the country. In December of 2000 the festival made the Guinness Book of World Records for its record attendance of 120,000 people. Voted one of the top 10 All-American Food Festivals in the nation by the Food Network-TV, the much loved event is a local and tourist favorite.
Schmett commented on the popular festival, "This is a signature event of the Coachella Valley, and local real estate sales can always expect a big boost as folks head to town shopping for vacation homes and additions to their real estate portfolios. The Tamale Festival came about thanks to the downtown Indio Merchants Association and gets bigger and better each year. This time of year has picture perfect weather, so the valley is filled with snowbirds and vacationers."
A parade, carnival and plenty of live music will add to the festivities. There are always a great selection of vendors with unique merchandise and hand crafted items as well. The Tamale Festival is a good time to get some holiday shopping done while having a very enjoyable day with family and friends.
Admission to the event is free and parking is available at the County's Administration Building, Larson Justice Center on the corner of Highway 111 and Oasis Street. Additional public parking will also be available on some streets around the downtown Indio area and free shuttle service will be provided to all festival visitors from the Larson Justice Center.
For more information on the 2015 Indio Tamale Festival visit http://www.tamalefestival.net.
To find out more about investing indio CA real estate visit http://indiorealestateinfo.com/.
About Luxury Homes by Keller Williams: Luxury Homes by Keller Williams – La Quinta, is an exclusive, elite and sophisticated group of real estate consultants raising the bar for service in the upper-tier La Quinta and Palm Springs area residential real estate market.