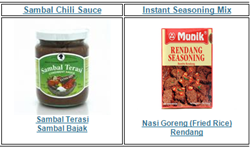 (PRWEB) February 28, 2015
IndoFoodStore.com, the largest online retailer of Indonesian food, has updated its most popular and demanded products! Among the categories that have been updated with new and refreshing products are: Sambal Chili Sauce, Instant Seasoning Mix, Spices / Bumbu Masak and Kecap / Soy Sauce.
Sambal chili sauce makes just about every meal even better. IndoFoodStore.com is now offering a variety of different sauces, ranging from the very popular sambal terasi, sambal bajak and sambal asli to the less known sambal pemuda, sambal bakso and sambal tauco; which go well in many types of dishes. Also, many different brands are available when it comes to this Indonesian sambal chili sauce. ABC brand, Kokita, Ibu Sambal and Runel are all available when it comes to buying sambal on IndoFoodstore.com. When buying sambal on Indo Food Store, one bottle can be purchased at a time instead of committing to a whole case.
The Indonesian seasoning mixes have also been updated here. Many different selections of fried rice seasoning mixes are now up for purchase such as: hot fried rice mix, mild fried rice mix, yellow rice mix and others. Also, the rendang category has a few new products including the option to buy rendang mix in a 12 oz. jar instead of 1.4 oz packets if wanted. Instant Indonesian seasoning mixes are the perfect way to spice up meals, and they wont be found at a better price than on IndoFoodStore.com
The Indonesian spices (bumbu masak) category has had many new products added, such as the option to buy galangal and cutchery powder in 1 pound bags instead of 2.8 oz jars. Of course, the option to buy all the spices in 2.8 oz jars is still available as well. Instant Terasi in 5 oz. jars is also now available to purchase, which goes great with many different dishes.
Kecap / Soy Sauce helps make almost every type of meal more tasty and powerful. IndoFoodStore.com has the best selection of indonesian soy sauce online. The soy sauce is available to purchase in glass bottles, which come with 21 oz of Indonesian kecap soy sauce. Plastic bottles are available to purchase for most types of soy sauce as well. Sweet soy sauce (kecap manis), hot soy sauce and a medium-sweet soy sauce are all available on Indo Food Store's website for purchase.
All of the products on IndoFoodStore.com are known to satisfy any Indonesian food critic. With all of these new products available the website maintains the largest selection of Indonesian food products online. IndoFoodStore.com is growing rapidly and will contrinue to add more products available to purchase from their website.
About Indo Food Store:
IndoFoodStore.com is the largest retailer of Indonesian food products online with 1,000+ Indonesian grocery store items such as Indonesian Sambal Chili Sauce, Indonesian Spices & Instant Seasoning, Noodles, Kecap, Krupuk, De Ruijter, Snacks, Desserts, Drinks, and exclusives such as Jeruk Limau, Best Fried Onion, Gula Jawa & much more on Indo Food Store's Indonesian Food Online Grocery Store!