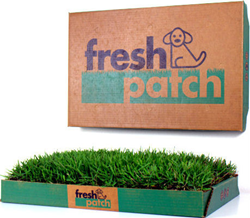 Los Angeles County Department of Animal Care and Control issued a news release saying that this highly infectious, highly contagious disease in dogs is being diagnosed in concerning numbers in the Antelope Valley
Los Angeles, CA (PRWEB) July 28, 2014
Fresh Patch--the maker of the real-grass, fully disposable dog potty--is joining the fight against highly contagious parvovirus infections in dogs. Puppies are particularly vulnerable to parvovirus--also known simply as PARVO. The most common form of the virus attacks a dog's digestive system and can also damage the heart. Symptoms can include vomiting and diarrhea. Dangerous dehydration can result, and severely affected dogs may die. Some older dogs may not have noticeable symptoms to alert their owners to the infection.
It is thought that parvovirus in dogs may be increasing in some areas of the country. For example, in May of this year, the Los Angeles County Department of Animal Care and Control issued a news release saying that this highly infectious, highly contagious disease in dogs "is being diagnosed in concerning numbers in the Antelope Valley. This virus does not make people sick but can be fatal for dogs. In the first four months of this year, 70 of the 162 PARVO cases reported to the County of Los Angeles Department of Public Health were in Lancaster and Palmdale alone. Half of these cases were detected in April, suggesting increasing risk."
Parvovirus in dogs is transmitted through their oral contact with the virus-harboring feces of other dogs, as well as with objects such as contaminated shoes and food pans, where the virus can survive on surfaces for many months. A currently available vaccine regimen can help to control the spread of this virus; however, some vaccinated dogs can still contract and die from the illness. An unvaccinated puppy or older dog can easily become infected in communal settings for dogs, such as dog parks and highway rest-stop areas, and when walking and frolicking outside the home in places where other infected dogs may have been.
According to the Fresh Patch Company, its real-grass indoor dog potty can be particularly helpful in avoiding parvovirus exposure when a puppy is not yet old enough to be vaccinated. The American Society for the Prevention of Cruelty to Animals (ASPCA) notes that: "Generally, the first vaccine is given at 6-8 weeks of age and a booster is given at four-week intervals until the puppy is 16-20 weeks of age, and then again at one year of age. A puppy's vaccination program is not complete before four months of age." The Fresh Patch Company says that this is a critical time period when its indoor dog potty can be particularly beneficial.
Fresh Patch notes that, in addition to vaccinating dogs, veterinarians can offer supportive therapy to infected dogs, including fluid replacement and antibiotics. It is therefore critically important to discuss parvovirus with a veterinarian, and to have a puppy or older dog tested if there are concerns about possible infection. Owners also need to follow a veterinarian's detailed instructions for the care of an infected dog at home. However, to avoid subjecting a puppy or dog to a difficult treatment regimen, the Fresh Patch Company urges dog owners to take preventive steps—to have their pets vaccinated and to reduce their exposure to parvovirus outside the home.