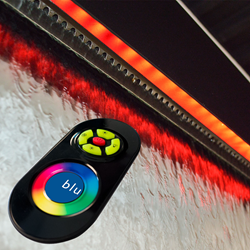 This literally puts a light show in your hands and there is nothing else like it on the market. Home and business owners who have never considered a beautiful indoor fountain really need to think about it
Orlando, Florida (PRWEB) September 28, 2015
The dramatic impact of LED lighting surges over the water feature and Home and Business Décor Industry this month with the world debut of The Gardenfall LED Floor Fountain. Since 1998, Bluworld of Water, the world leader in Exquisite Water Feature Design and manufacture, has focused on creating innovative water features and high-end commercial water fountain installations for customers throughout the world. Now with advanced LED technology and engineering borrowed from the custom division, Bluworld HOMelements offers amazing remote controlled LED lighting that creates a vibrant wash of color over the entire water feature and immediate area for their 6' and 8' GardenFall floor models.
The Gardenfall floor fountain has been Bluworld's most popular and sought after water feature. Made with the highest quality products and workmanship it's easy to see why. With this amazing new low voltage LED Color Light Display System anyone can create their own fountain light show in their home or office. Select one of the numerous solid color choices at hand or decide on one of the 16 pre-programmed light display combinations or make your own, all available at the touch of the included remote control.
"This literally puts a light show in your hands and there is nothing else like it on the market," said Jo-Ri Way, Bluworld business development manager. "Amazing vibrant colors in a soothing, healthful fountain, until now only seen in custom, high-cost fountains." She said the indoor GardenFall fountains, from Bluworld's HOMelement division, are "very affordable, everything in the HOMelements line of products is accessible to anyone looking to create their own oasis".
Bluworld explains that its water and garden fountains, while decorative successes, offer even more benefits, including: 1.They act as natural humidifiers combating dry air from heating systems. 2. Their soothing sights and sounds are a proven boost to mental well-being. 3. They increase the negatively-charged molecules (ions) in the air, which scientists say improve mood and energy.
Available on the company's website the products ship from Orlando and setup takes only five easy steps with no tools required. The company website abounds with photos and videos of GardenFall fountains and all BluWorld water features and Nu-Flame fireplaces.
"Home and business owners who have never considered a beautiful indoor fountain really need to think about it, said Marty Effron, President. "We all love being near water. It sustains AND improves life."
Bluworld of Water™ is the global leader for producing quality-engineered water features for themed restaurants, nightclubs, hotels, health spas, and retail establishments serving a client list that reads like Who's Who. The HOMelements GardenFall line is made with the same technology and engineering precision. The new color LED GardenFall line offers an upgrade typically found only in expensive custom fountains, making it a standard feature in their affordable HOMelements line of retail products. The LED GardenFall line launched nationwide September 2015, just in time for the fall/winter season. All GardenFall stock ships from Orlando, FL.
In addition to the GardenFall line Bluworld also has a huge array of wall mounted indoor water features, freestanding floor waterfalls, garden fountains, and soothing tabletop fountains that are certain to enhance any interior setting. Bluworld HOMelements also creates the popular Nu-Flame line of eco friendly ethanol fireplaces and ethanol fireplace fuel made from 100% waste.
The GardenFall fountain line is marketed through Bluworld and authorized Bluworld dealers in the United States and Canada. To learn more about the GardenFall line of fountains please visit their website.