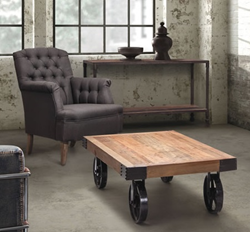 Vintage factory carts are absolutely gorgeous, with rustic, natural wood tops and whimsical antique metal wheels - and they're just the right size to stand in for a standard coffee table.
(PRWEB) August 06, 2014
HomeThangs.com – the Online Home Improvement Store has made their goal to deliver the right product to the consumer. With that in mind, shopping and home design tips, as well as special product selections are being introduced.
Though almost all living rooms have one, coffee tables aren't often used as a visual focal point. Even though coffee tables are placed literally right in the center of the room, because they fall firmly in the realm of practical furnishings, they're more likely to get scattered with magazines and remotes than decorated. They're meant to do a job first, and look good second. But HomeThangs.com has introduced a guide to an alternative to the traditional coffee table that works well and looks great, without being overly ornate: a vintage factory cart.
Vintage factory carts are relatively simple in design: a flat wood surface affixed to four or more large metal wheels. Way back when, these were used for (literal) heavy lifting: big boxes, crates, or other heavy items were put on top of one of these carts so they could be maneuvered more easily. Usually the wheels are designed to turn freely for a greater range of motion, and sometimes come in odd numbers, weird positions, or unusual mountings to help make sure the cart (and anything on it) moved smoothly.
These vintage factory carts are exactly the perfect size and shape to stand in for a standard coffee table. More importantly, refurbished, restored carts can be absolutely gorgeous, with rustic, natural wood tops that are so popular right now, and a rugged character that a simple wood table simply doesn't have. Add to that a set of whimsical antique metal wheels, and these carts can easily be transformed into fully functional coffee tables that are also a pleasure to look at.
Authentic vintage factory carts that have been salvaged and restored have amazing character, with subtle imperfections and wear and tear that only come from years of use. But even modern replica versions are designed with that old fashioned, slightly weathered, rough-hewn style in mind, and often use less-than-pristine planks (or even reclaimed wood) to create a coffee table surface that's more interesting to look at than a simple finished slab of wood, but a little less expensive than a real antique.
Vintage factory carts can either be polished and sealed or left totally raw, natural, and unfinished. The latter is more traditional, of course, and has the added advantage that the wood used will naturally continue to gray and weather as it ages, so that it will slowly develop its own natural character, even if the piece itself is a replica. But a more finished cart will have a smoother surface and burnished finish that are slightly more traditional for a living room.
Having a coffee table that's highly mobile can also be advantageous, particularly in a large living room or one with a sofa that reclines or converts into a bed. Wheel-mounted carts can easily be moved out of the way or around the room, even on plush carpet, and they're much less likely to scratch a hard floor than conventional table legs. On the flip side, wheels can be a tad less stable, particularly on a hard floor, so look for models that have locking mechanisms built onto at least one of the wheels.
Most vintage factory carts consist of a single flat board mounted on wheels, but as this particular type of furniture is becoming more widely used as a coffee table, the table portions are starting to become thicker and more cabinet-like, with non-traditional features like open shelves for books or even built in drawers. This type of table is obviously less authentic, but modern replicas are made with the same attention to detail – they're just designed with a little extra added functionality.
For more ideas about using vintage factory carts in place of conventional coffee tables, check out the full article here.
HomeThangs.com is not only a home improvement superstore, it also provides expert design tips and a comprehensive shopping guide, taking the ideas from professional interior designers, and offering tips to the consumers on how to pick the products to best suit their needs.