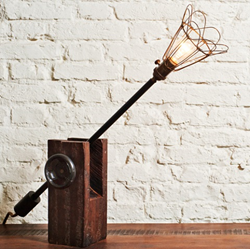 Factory style lights are complex and visually interesting without being ornate, and carry something of a sense of history while managing not to feel old fashioned.
(PRWEB) August 05, 2014
HomeThangs.com – the Online Home Improvement Store has made their goal to deliver the right product to the consumer. With that in mind, shopping and home design tips, as well as special product selections are being introduced.
The term "antique lighting fixture" is usually used to refer to big, ornate lights, like old fashioned chandeliers or wall sconces that exchange real candles for flame-shaped light bulbs. But while these classic lights have certainly stuck around, lately the definition of "antique" has started to change. Turn of the century factory lights have sparked designers' imaginations with their slightly oddball, whimsical styles. HomeThangs.com has introduced a quick guide to some of the ways these new antique lights have been restored, replicated, and redesigned for a modern home.
Early electric lights, including factory lights, have been getting a lot of attention lately, primarily because the designs of the original lights had so many unusual features that simply aren't found on modern lights. Wire bulb cages, pulley arms, and other odd moving parts and once-practical features now appear nothing if not whimsical, and many designers have started tweaking and combining these oddball elements to create gorgeous new designs that have a distinctively old fashioned look and feel.
The result can be more or less showy, but almost always invites a second look – to see how various parts work or move, or to imagine what purpose they might serve. Traditional lamp stands and lamp shades won't be found anywhere in this style, replaced instead by bending arms, twisting pipes, adjustable tripods, and so on. And more often than not the light bulbs themselves are an essential part of the design.
Old fashioned incandescent bulbs, with their bright, distinctive orange filament, have gone from being outdated technology to becoming statement pieces in their own right. Modern designers have replicated the glass of antique bulbs – thick and slightly tinted, in many more shapes than the now-conventional bulb – and embellished the old fashioned filament, so instead of a basic coil, there are gorgeous, twisted, shapely curls of light inside. The effect is so striking that many of these restored and re-imagined lighting fixture leave the bulbs completely bare, making them the showpiece of the fixture.
The growing popularity of turn of the century lighting fixtures reflects a larger cultural shift, as Americans take a more casual approach both to life and to design. These lights are complex and visually interesting without being ornate, and carry something of a sense of history while managing not to feel old fashioned. Plus, even when the cogs, pulleys, valves, and cages are purely decorative, they feel practical and functional, or at the very least, tactile, as opposed to more conventional antiques, which can feel very hands-off.
At the very least, factory light inspired table lamps use more rugged, practical looking materials, like replacing a traditional fabric lampshade with one made from a wire cage or riveted, weather-worn metal. From there, the designs only get more ornate and whimsical, less recreating an actual turn of the century factory light, and more like reinventing or riffing off the original design. The more outlandish and intricate of these table lamps border on Steampunk rather than factory style, putting an even stronger emphasis on oddity and whimsy.
These reinvented factory lights are all about evoking a practical, hardworking past rather than an opulent, aristocratic one. Because the "functional" parts of these table lamps don't necessarily have to actually do anything, features that once served a particular purpose on their original factory lights can be used to evoke that sense of practical functionality in a different way. For a Steampunk design, that usually means sticking on superfluous cogs and gears, but it can also mean using parts to make a lamp look like something else – an old electric fan, a candle snuffer, or even "mad scientist" style lab equipment.
To get a better look at more unique, factory style table lamps, check out the full article here.
HomeThangs.com is not only a home improvement superstore, it also provides expert design tips and a comprehensive shopping guide, taking the ideas from professional interior designers, and offering tips to the consumers on how to pick the products to best suit their needs.