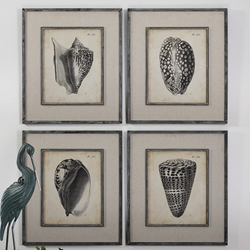 Simple art with a smudged, soft, sketchy, or hand-finished quality is a perfect pair for the slightly aged, slightly grungy look of an industrial decor.
(PRWEB) May 02, 2014
HomeThangs.com – the Online Home Improvement Store has made their goal to deliver the right product to the consumer. With that in mind, shopping and home design tips, as well as special product selections are being introduced.
Creating an industrial style decor is all about embracing things that are old but not quite antique and finding the artistic beauty in items that are generally considered to be purely functional. When it comes to artwork, that means emphasizing pieces with a human touch, including items that wouldn't conventionally be considered fine art. HomeThangs.com has introduced a guide to a few everyday items that can be elevated to the level of art in an industrial style decor.
Handwritten Pages
Maybe one of the most extreme examples of regular items being used as art in an industrial style decor is the sheer prevalence of framed papers. These run the gamut from hand written letters to sheet music to poems or manuscript pages, and can be written in English or otherwise. Often, it's less about what the paper says (e.g. the contents of a letter) and more about its appearance. Little details like worn creases, coffee stains, or notes in the margins give the papers a unique, tactile character that allows them to serve as something like time capsules, capturing a moment and putting it on display.
Postcards
Postcards are another common item that can be repurposed as art in an industrial style decor, and for similar reasons. Postcards capture a single moment in time, not only for the pictures and places depicted on the front side, but for the stamps and postmarks on the back. Postage stamps mark when and where the card came from, while the simple small notes conjure up an untold story. Postcards can easily be displayed either faced forward or in reverse, and are small enough that they work equally well shown off individually or in a collage.
Simple Sketches
For those that would prefer more traditional artwork, there is a middle-ground option: instead of a finished painting, seek out pencil or charcoal sketches. These can be anything from very simple line drawings to more complex pieces and combine the authority of fine art with the slightly grungier quality that needed for an industrial decor. Think aged paper, smudged graphite, and soft, sketchy lines rather than hard shapes. Simple figure drawings work especially well, but landscapes or more detailed architectural sketches can work too.
Scientific Drawings
Simple scientific drawings of plants or animals are another good fit for an industrial style decor. These precise, detailed drawings are often paired with hand written notations that give them a one-of-a-kind appearance. Because drawings like this aren't really done anymore, they inherently carry that little sense of history with them that's perfect for adding a touch of sophistication to an industrial style decor. Old encyclopedia pages with detailed etchings work well for this, too.
Schematics Or Other Technical Drawings
Technical drawings work great too - anything from machine schematics to old fashioned models of the solar system. Like scientific nature sketches, these are detailed, precise drawings that should have a slightly dated quality to them and maybe a little visible age or wear and tear. But while sketches of leaves, flowers, or birds bring a touch of nature into an industrial style decor, drawings of man-made parts will emphasize the grittier factory and mechanical aspect of the style. Often, these types of drawings will also have a more abstract, geometric quality which gives them a slightly more modern look and feel.
For more industrial inspired decor, check out some of the beautiful artwork from Uttermost.
HomeThangs.com is not only a home improvement superstore, it also provides expert design tips and a comprehensive shopping guide, taking the ideas from professional interior designers, and offering tips to the consumers on how to pick the products to best suit their needs.