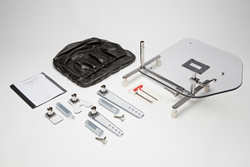 With the Pediatric Spica Table you get a higher levels of casting efficiency with positive outcomes
MONTEREY, Calif. (PRWEB) February 26, 2019
Industrial Engineering Machine LLC is an American company manufacturing an American product with the absolute highest quality materials available. Truly a cut above the rest. At Industrial Engineer Machines LLC engineers are always trying to improve their products. Pediatric Spica Table contacts doctors and casting technicians that are using their tables and what has been quoted is.... "don't change your table, it works perfectly the way it is designed."
The Pediatric Spica Table is available in polished or satin finished 304 stainless steel. The structural frame including the adjustment handles and fasteners are also made from 304 stainless steel. This type of stainless steel is strong, durable, resistant to corrosion and is also much easier to clean and maintain, resulting in greater product resilience and longevity.
Radiolucent Components:
In addition to the tabletop, the interchangeable spinal supports and multiple perineal posts are also made of scratch-resistant radiolucent polycarbonate. This means that x-rays can be taken during the casting process without disturbing the patient or disrupting the casting process, resulting in greater patient comfort and increased assurance of alignment accuracy. The size of the two smaller spine supports that are supplied with our tables have been improved in thickness and durability. The main radiolucent tabletop now has multiple adjustments that help in the set up when the table is used for x-raying. With these multiple adjustments the ability to perform x-rays during the casting process, without having to move or re-position the patient can result in fewer recasts, higher levels of casting efficiency and more positive outcomes. When these results are combined with less time on the table, and an associated decrease in cost, it's no wonder that the Pediatric Spica Table has been so well received by casting technicians and doctors around the world.
Adjustable Arm Supports:
The Pediatric Spica Table is available with fully adjustable removable arm supports that are made of the same scratch-resistant radiolucent polycarbonate. This provides casting technicians with the ability to allow the patient to rest comfortably on the table during the casting process. A comfortable patient results in less unnecessary movement, less patient anxiety, less associated trauma and a smoother overall process
The Pediatric Spica Table Company will be visiting cities across the U.S. this year to demonstrate the Pediatric Spica Table. If your hospital is interested in a demonstration please contact us via email. spicatable(at)gmail(dot)com
Pediatric Spica Table is a division of Industrial Engineering Machine LLC a research and development-manufacturing company located in Monterey, California, USA. We specialize in the development of unique, customized products for professionals seeking design applications not readily available to the general marketplace.
PATENT PENDING
CE – European Directives Approved