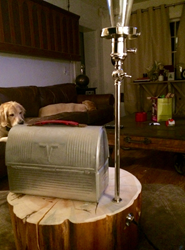 Personal ideas from the customer are the drivers for the newly introduced custom movement
Nashville, TN (PRWEB) October 29, 2014
Industrialighting started as an experiment to find an outlet for personal creative. This then led into a hobby, and finally blossomed into a business for the creative owner and artist Read Hauck. In order to keep up, an artist has to do their part in meeting demand of the public's enthusiasm. Due to many requests Industrialighting is finally expanding to offer custom lighting inquiries and commissions. "Requests will be met on a case by case basis" says Hauck, "depending on the wants and needs of the clients along with my personal knowledge of how to combine those with the quality I am comfortable consistently delivering, with confidence."
Hauck realized he was given the ability to impact the lives of people when a friend who had an stage 3 cancer and this particular friend approached Read about creating a light fixture for his wife prior to going into a series of surgeries that he may not make it through. This friend wanted something to share with his wife and children that had historical and personal significance.
Hauck was given a lunchbox that belonged to the spouse's grandfather who was a wood worker in the northwest during the 1940's. With this, Hauck immediately began to search for a suitable piece of Tamarak wood that would serve as a base for the fixture. The end result was an extremely personal light fixture that incorporated the wood base and the lunchbox with a personal story attached to it. Hauck presented this to his friend and immediately had a sense of purpose that he had never experienced.
This was the what prompted Hauck to open the business up to more than just a his own personal creative vision, but to include the vision of the customer if that is what the customer desires.
Industrialighting is a Nasville based lighting design studio. They are located in the 12th South District and have been creating unique fixtures from a variety of unique items for 3 years now. They have been able to secure a number of music industry celebrities as loyal customers and also offer their fixtures to the general public on Etsy and also a company website. To contact Read for custom lighting projects, you can call their studios at 615-604-8882. or email at readhauck(AT)gmail.com.