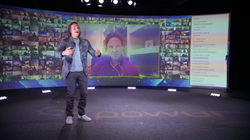 I'm thrilled to join Jonathan and the entire Powur family in creating the next great solar energy company. Powur has a very unique model and one that I believe has the potential to revolutionize the industry. - Paul Winnowski
CARLSBAD, Calif. (PRWEB) June 30, 2021
Powur PBC, a rapidly growing renewable energy platform, today announced that it has appointed Paul Winnowski, former President and COO of Sunrun, to its board of directors.
"Paul is an incredible asset to the Powur team, and I am thrilled to be working with him," said Powur CEO Jonathan Budd. "I have long admired Paul's influence and leadership in the industry. We are experiencing unprecedented growth, and I see no end in sight to that momentum. Paul's leadership is critical right now as we seek to find innovative ways to scale, constantly raising the bar in our industry."
Having achieved year-over-year growth in excess of 1,000% in 2020 and on track for triple-digit growth in 2021, Powur welcomes the experience, expertise and leadership that Winnowski will provide as it continues to scale and capitalize on growth opportunities.
"I'm thrilled to join Jonathan and the entire Powur family in creating the next great solar energy company," Winnowski said. "Powur has a very unique model and one that I believe has the potential to revolutionize the industry."
Budd attributes Powur's growth to its technology – a model that leverages the company's innovative cloud-based platform at the center of the homeowner, installation partners and its network of solar sales professionals to deliver world-class, affordable solar solutions to homeowners without the company actually owning or operating any offices or installation assets. This model means the company is able to deliver maximum value to its homeowners and solar professionals, further propelling its growth.
Industry veteran Winnowski said he believes solar is poised for tremendous growth, due in large part to significant tailwinds such as favorable regulation, decreasing costs of goods, increased innovation in storage options and rising consumer awareness and demand following more frequent and more extreme weather events. Pointing to geographies like Germany and Australia where adoption of residential is as high as 30%, Winnowski remarked that the United States is "in the first inning of a nine-inning game."
"At its core, Powur's model is simply different, and better, than anything in the industry. Through Powur's cloud-based platform, not only does the homeowner benefit from clean and affordable power, but also people from all backgrounds and all geographies can be successful on the sales platform," he said. "Consider that solar penetration rates in the U.S. are still hovering around 3%. It's easy to see that we are in the very early stages of what promises to be a major shift in our overall energy landscape. The Powur team and platform is perfectly positioned to be the clear winner in this space."
Winnowski joins an already prestigious board of directors, including Bill Twist, Dean Rosenberg, Henrik Rosendahl and Rick Hoskins, and will be instrumental in helping the company complete its current round of financing.
"Having someone like Paul on board at Powur is a momentous occasion," Budd said. "The Powur family is full of tens of thousands of homeowners, installation partners, sales professionals and investors who make it possible for us to become the largest renewable energy platform in the world. Now more than ever, more homeowners want to harness the energy of the sun, and Powur is here to help them do just that. At this stage in our company's growth, every day is a milestone day. Every day we smash a goal and set a new one. Paul's addition to the team will only accelerate our rapid rise."
About Powur
Founded in 2015, California-based Powur PBC is on a mission to accelerate the adoption of solar energy worldwide. As the first 100% virtual, residential solar company in the cloud, Powur operates an innovative platform model, enabling it to scale quickly and meet the demands of an ever-expanding solar landscape. The company's model ensures that Powur is able to provide affordable and customized solar solutions to homeowners, while empowering its network of thousands of independent solar consultants and regionally specialized installation partners. For more information on the company, visit https://powur.com/ and for more information on the company's current financing round, visit https://wefunder.com/powur