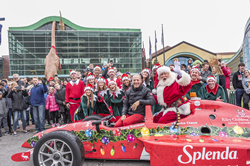 My 'daredev-elves' scurried down the building as Tony Kanaan put the pedal to the metal to get me to The Children's Museum of Indianapolis on time. Then I got to glide down the Yule Slide! It doesn't get much better than this! Santa
Indianapolis (PRWEB) December 01, 2019
The North Pole was tweeting, the elves were in shock.
Could it possibly be the old sleigh had been hocked?
No need to fear, said eight tiny reindeer.
Santa went for a spin—while elves giggled and grinned.
Santa and His Elves Magically Appeared
Rudolph took the day off; so Tony Kanaan, driver of the #14 Foyt Racing IndyCar, zoomed in to save the day and dropped St. Nick off at The Children's Museum of Indianapolis in a tricked out two-seater. The former IndyCar champ and 2013 Indy 500 winner—took the wheel, dodged some dinosaurs, and slid into a special spot in front of the world's largest children's museum as a crowd of good little girls and boys waved and cheered.
Just before Santa's temporary sleigh slipped past the finish line, a trio of elves rappelled from the rooftop while another pair rushed in with milk and cookies.
That was just the beginning of the holiday festivities. Santa and his new driver hustled inside to sing holiday songs and zip down the 47-foot-long Yule Slide.
While little ones shared their secret wishes with Santa, Kanaan signed autographs for fans. The 2013 Indy 500 winner & 2004 IndyCar Champion joyfully signed while those in line raved about his 17 career race wins and 15 pole-positions in the IndyCar Series. The first IndyCar driver to complete every lap of every race during a season, Kanaan was happy to stick around for a few selfies with fans.
Jolly Days Winter Wonderland
The season will continue to be jolly and bright for the next month while the holiday exhibit
Jolly Days Winter Wonderland delivers faux fishing, sock-skating and holiday baking. There is also a castle to climb and a dazzling globe that allows visitors to "let it snow" at the push of a button. The exhibit will remain open until January 5, 2020, and families can visit Santa through Dec. 24, 2019.
The Magic Snowman written by Stephen Murray
Families will definitely feel merry and bright during their visit with a stop in the museum's Lilly Theater. Visitors will find out if the magic snowman can turn the villagers' frowns upside down in a delightful, interactive musical!
Experience more holiday cheer with free admission December 24, 2019 (presented by Metro by T-Mobile)
The Children's Museum of Indianapolis will be open from 10 a.m. – 2 p.m. on the 24th of December. There will be plenty of programming allowing families to earn their elf ears, participate in "snowball" fights, sing along with The Mistletoes, and talk to delightful costumed characters! Please note: The Children's Museum of Indianapolis will be closed on December 25, 2019.
New Year's Eve Celebration
Those who want to make a big splash in 2020, can Countdown to Noon at a family-friendly hour by watching North America's largest water clock tick away the time drop by drop. There will be live entertainment from Grammy-nominated Zak Morgan before each countdown (noon and 1 p.m.) and party favors while supplies last.
For a schedule of all events, visit on the museum's online calendar.
Santa's Big Arrival is presented by Riley Children's at Indiana University Health. Jolly Days Winter Wonderland is presented by Riley Children's Health and supported by Splenda. The Lilly Theater production, The Magic Snowman, is supported by The Christel DeHaan Family Foundation. The Children's Museum of Indianapolis is proud to partner with Riley Children's at Indiana University Health, Old National Bank and Ice Miller LLP.
About The Children's Museum of Indianapolis
The Children's Museum of Indianapolis is a nonprofit institution committed to creating extraordinary learning experiences across the arts, sciences, and humanities that have the power to transform the lives of children and families. For more information about The Children's Museum, visit http://www.childrensmuseum.org, follow us on Twitter @TCMIndy, Instagram@childrensmuseum, YouTube.com/IndyTCM, and Facebook.