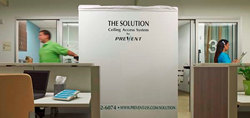 We are very excited to demonstrate the ease of use and quick set-up of The Solution line of mobile containment units.
Livermore, CA (PRWEB) June 24, 2015
PREVENT is excited to announce their participation as an exhibitor in the Association for Professionals in Infection Control and Epidemiology (APIC) Annual Conference on June 26-29, 2015 at the Music City Center in Nashville, TN. The APIC Annual conference provides the opportunity for infection prevention professionals to collaborate and learn about advancements in lowering the occurrence of healthcare associated infections (HAIs) in hospitals across the United States.
PREVENT will be displaying and demonstrating their line of mobile containment units, The Solution 10 and The Solution 13, at Booth #533. These units are designed to simplify infection control for construction and maintenance projects that require work above the ceiling in healthcare environments. HAIs are responsible for more than 110,000 deaths a year in the US, in which 5% of those deaths are associated with construction or maintenance-related work.
The Solution creates a contained workspace with a built-in HEPA air filtration unit. The unit filters dust from the air so as not to disperse harmful particles contained in the dust to the surrounding environment. The Solution's One-Step Lift & Lock Mechanism™ allows for one-person set up in seconds, allowing for quick and easy movement throughout a facility.
In addition to exhibiting with these units, PREVENT will be hosting a drawing for an APIC attendee to receive The Solution 10 for free, an $8,000 value. APIC attendees must stop by the booth to enter their names into the drawing.
"We are very excited to demonstrate the ease of use and quick set-up of The Solution line of mobile containment units," says Ann Pollard, VP of Sales and Marketing at PREVENT Life Safety. "We know the professionals at APIC can appreciate The Solution as much as we do, which is why we've decided to give one unit away to a lucky facility."
Stop by the PREVENT booth to speak with a member of the PREVENT team, enter to win the drawing, and try out The Solution for yourself. For more information on The Solution, visit http://www.thesolutioncontainment.com.
About PREVENT Life Safety
PREVENT Life Safety is America's premier provider of facility life safety services. With operations in California, Arizona, Washington, Oregon and Texas, PREVENT Life Safety provides life safety services to the healthcare, commercial office, and hospitality industries throughout the western United States. PREVENT's services include: fire damper inspections & repair, fire door inspections, repair, & recertification, firestopping, mechanical systems restoration & duct cleaning, as well as photoluminescent egress systems installation.
PREVENT is also a pioneer in infection control with the development of The Solution™ line of mobile containment units, which prevent the spread of dust and other potentially harmful particles from entering occupied spaces during construction or maintenance work above the ceiling. For more information on PREVENT Life Safety, please visit their website at http://www.prevent-lss.com.