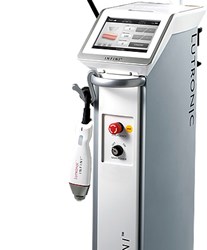 The 1st INFINI System in Florida is now at Mayoral Dermatology.
Miami, FL (PRWEB) August 29, 2013
Miami's most distinguished dermatology treatment center Mayoral Dermatology announces the acquisition of the most recently developed fractional radiofrequency device intended to smooth wrinkles, firm and volumize skin and erase scarring caused by acne or surgery. Mayoral Dermatology is the first skin rejuvenation facility in Florida to offer the INFINI! RF System to patients who want a painless, noninvasive skin treatment that restores luminosity, tone and smoothness to skin damaged by excessive sun exposure, aging and various dermatological conditions.
Developed and marketed by Lutronic (http://www.usa.lutronic.com/infini), the INFINI! fractional RadioFrequency system accommodates all skin types while incorporating MFR (Microneedle Fractional RF). The Microneedle Fractional radiofrequency INFINI! handpiece delivers precisely regulated "coagulation" zones within the dermis, or lower layer of the skin, by incorporating a cutting-edge, three-dimensional transmission of thermal energy to add volume, tighten wrinkled skin and smooth scars by stimulating collagen production. In addition, this channel allows dermatologists to engage in sophisticated depth control so that treating delicate skin areas culminates in optimal results. By delivering the right amount of radiofrequency energy via specially designed microneedles, the INFINI! ensures that patients undergoing this new procedure experience no thermal injuries to the skin while reducing the risk of darker skinned people suffering post-inflammatory hyperpigmentation.
Respected all over the world as a premier expert in both common and rare dermatological conditions and procedures, Dr. Flor Mayoral and her staff of professional dermatologists and estheticians comprise the popular Mayoral Dermatology clinic located at 6705 Red Road #314 in South Miami. Residents of southern Florida have been seeking Dr. Mayoral's assistance in solving all kinds of skin problems for over 28 years, including the removal of precancerous skin lesions, non-surgical elimination of cellulite and stubborn fat deposits and dermal filler injections for severely wrinkled skin.
Mayoral Dermatology is excited to announce the incorporation of the INFINI! RF System to their ever-expanding list of skin enhancement procedures so that south Florida residents can receive individualized treatment plans specifically addressing any skin problems that may be affecting their health and appearance. To make an appointment at Dr. Flor Mayoral's dermatology clinic, call 305-662-4649.