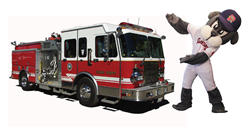 "As a community-based credit union, we are very family-friendly, and we see the [Touch-a-Truck] event as a great opportunity for local families to meet some of their public servants." – Kathy Guillory, Infinity Federal Credit Union
ARUNDEL, Maine (PRWEB) July 17, 2019
Residents of Arundel and neighboring communities are "gearing up" for Infinity Federal Credit Union's (FCU) second annual "Touch-a-Truck" event on Saturday, July 20.
From 11 a.m. to 1 p.m., visitors can enjoy an up-close look at several public safety and first-responder vehicles at Infinity FCU's Arundel branch, including a fire truck and ambulance from the Arundel Fire Department.
Also on hand will be Slugger the Sea Dog—mascot for the Portland Sea Dogs, the Boston Red Sox's Double-A affiliate—as well as uniformed officers from the Kennebunk Police Department (though attendees won't be able to touch their cruisers).
According to Kathy Guillory, Director of Marketing for Infinity FCU, the event is part of a broader effort to engage the Arundel community.
"After years of looking for events in town we could sponsor, we decided the best approach would be to launch our own," Guillory says. "Close to 100 people attended last year's event, which was more than we expected, and we're hoping for an even bigger turnout this year. As a community-based credit union, we are very family-friendly, and we see the event as a great opportunity for local families to meet some of their public servants."
Attendees can enjoy free food courtesy of El Camino Fresh Mexican Grill, a Portland-based food truck. In addition, Infinity FCU will offer free chocolate-chip-cookie-and-ice-cream sandwiches (known as Sea Dog Biscuits).
Activities include face-painting, corn-hole and other games.
The event will run from 11 a.m. to 1 p.m. at Infinity FCU's Arundel branch, located at 1298 Alfred Road.
At a recent event hosted by ProsperityME, Infinity FCU was honored with the "Outstanding Community Partner" award in recognition of the credit union's efforts to give asylum-seekers no-interest loans to help them secure their first apartments.
About Infinity Federal Credit Union (FCU)
As Maine's first credit union, Infinity Federal Credit Union has been serving its members since 1921, initially as the Telephone Workers Credit Union of Maine, then as Telco of New England FCU. Infinity FCU is now community-based, available to anyone who lives, works, worships or attends school in Cumberland and York counties and the city of Bangor, Maine. Infinity FCU is a not-for-profit cooperative organization owned by its members and guided by the vision: "We do banking differently to keep *you* a step ahead in life." For more information about Infinity FCU, please visit http://www.infinityfcu.com.