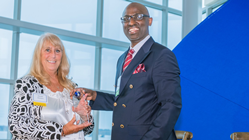 "By providing the funds for them to secure a safe place to live while they seek employment, we're helping this community in a tangible way. It's a small piece of their journey to citizenship, but an important one." - Kandy Moreau, Infinity FCU's chief lending officer
PORTLAND, Maine (PRWEB) May 28, 2019
As Portland experiences an influx of refugees and asylum-seekers, putting pressure on many of the city's services, a pair of local organizations is stepping up to lend a hand—and a whole lot more.
One year after launching a program to give asylum-seekers no-interest loans to help them secure their first apartments, Infinity Federal Credit Union (FCU) was recently honored with the "Outstanding Community Partner" award at the 11th Annual Community Block Party.
The event took place at Portland's Ocean Gateway and was hosted by ProsperityME, the initiative's cosponsor.
Since introducing the program in early 2018, Infinity FCU and ProsperityME have helped 18 individuals (including seven families) pay for their rental security deposits, thanks to a rolling $100,000 fund provided by ProsperityME.
"We are honored to be chosen as the Outstanding Community Partner by ProsperityME," says Kandy Moreau, Infinity FCU's chief lending officer. "This partnership lets us live our vision of keeping our members a step ahead in life. By providing the funds for them to secure a safe place to live while they seek employment, we're helping this community in a tangible way. It's a small piece of their journey to citizenship, but an important one."
After completing an eligibility interview, each participant is assigned a volunteer housing coach from ProsperityME, a Portland-based nonprofit that offers financial literacy courses and counseling.
In order to receive the interest-free loan, which ranges from $650 to $1,500, participants must be eligible for a U.S. work authorization, have no credit established in the U.S. and meet Infinity FCU membership qualifications. Loan repayment begins as soon as the participant secures a job, or after 10 months.
Asylum-seekers who have a credit history, or who have had a job for more than a month, can apply for a security deposit loan through Infinity FCU, but won't qualify for the interest-free loan program.
According to a 2017 study published in the International Journal of Environmental Research and Public Health, finding stable and affordable housing "can be the most critical indicator of successful integration for refugees and asylum-seekers."
According to Matteson Nadeau, marketing and events coordinator for ProsperityME, both organizations plan to keep the initiative going as long as possible.
"I think everyone on our staff has been amazed by how quickly the program has really taken off and how successful it's been," Nadeau says. "That's a testament to our incredible staff and volunteers who make this initiative possible."
About Infinity Federal Credit Union
As Maine's first credit union, Infinity Federal Credit Union has been serving its members since 1921, initially as the Telephone Workers Credit Union of Maine, then as Telco of New England FCU. Infinity FCU is now community-based, available to anyone who lives, works, worships or attends school in Cumberland and York counties and the city of Bangor, Maine. Infinity FCU is a not-for-profit cooperative organization owned by its members and guided by the vision: "We do banking differently to keep you a step ahead in life." For more information about Infinity FCU, please visit http://www.infinityfcu.com.
About ProsperityME
ProsperityME's mission is based on the understanding that our broader society benefits from an engaged and economically independent Maine refugee and immigrant community. By providing the opportunity for financial literacy, ProsperityME fosters integration and stability, promoting a strong economy. ProsperityME assists in transitioning individuals and families out of poverty and into self-sufficiency by teaching them how to make sound decisions as they manage their personal finances.