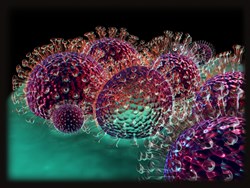 Health literacy is the first step in spreading awareness about preventative measures like the flu vaccine.
Atlanta, GA (PRWEB) November 22, 2013
As the CDC recognizes December 8-14, 2013 as National Influenza Vaccination Week, Nucleus Medical Media offers free informational medical animations through social media channels to explain and promote health literacy.
The Centers for Disease Control and Prevention recommend that pregnant women, children younger than 5, adults 50 and older, individuals with chronic medical conditions, among others get the annual influenza vaccine. Click here to learn about more CDC flu vaccine recommendations.
With a mission to support and enhance health literacy, Nucleus offers no-cost, informational videos about health conditions on the Nucleus Medical Media YouTube channel including the Influenza animated 3D medical video that introduces the viewer to the structure and components of the influenza virus. Then, the animation explains the transmission and pathogenesis of the virus and describes common treatments for the flu.
Ron Collins, CEO and Cofounder of Nucleus Medical Media believes that the web is ideally suited to help spread health literacy information like facts about National Influenza Vaccination Week: "Health literacy is the first step in spreading awareness about preventative measures like the flu vaccine," he says. "We ask all of our viewers on YouTube and Facebook followers to watch and share these animations to raise awareness of about National Influenza Vaccination Week."
If you are a nonprofit organization interested in using medical animations for community-based or faith-based health presentations on influenza, email Nucleus at info(at)nucleusinc(dot)com with "National Influenza Vaccination Week Information" in the subject heading.
For further comment, contact Ronald Collins at rcollins(at)nucleusinc(dot)com or (800) 333-0753.
About Nucleus Medical Media
Founded in 1997, Nucleus Medical Media, Inc. is an award-winning creator of medical illustrations, medical animations, and interactive multimedia for the publishing, legal, healthcare, entertainment, pharmaceutical, medical device, and academic markets. Nucleus's clients and partners include WebMD, McGraw-Hill, Dr. Oz, EBSCO Publishing, and thousands of other businesses in new and traditional media. Nucleus employs the world's largest team of graduate-degreed medical illustrators, and has a Medical Review Board with more than 75 physicians and nurses. For more information, visit our website: nucleushealth.com.