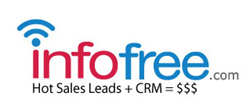 I would recommend infofree to almost anybody.
(PRWEB) August 26, 2014
Infofree.com, the premier provider of sales leads, mailing lists and email lists has recently received a positive review from JP Van Dyke, President of JAC Consulting. Van Dyke endorsed the detailed records and quality service his company has found at infofree.com.
JAC Consulting, a political consulting firm, has been using infofree.com for almost two years. The firm has used multiple lead generation companies in the past, but has found the biggest benefits with infofree.com.
These benefits take the form of diverse types of database lists, detailed records and excellent customer service. Van Dyke has appreciated the willingness of the infofree.com customer service team to help him find the answers he needs in a timely and considerate manner.
Van Dyke endorsed the sales leads service saying, "I would recommend infofree to almost anybody. I've actually recommended it personally to several businesses that I've done work with."
JAC Consulting is a political consulting firm. Their services include robo calls, telephone town halls and telephone polling. They promote a variety of politicians, insurance agents and other businesses with a focus on technology, innovation and creativity. Learn more about JAC Consulting at http://www.jacconsulting.com.
Infofree.com is a subscription-based service offering sales leads, mailing lists, email lists, business credit reports, background/criminal searches and a free contact manager, CRM101. To grow your business and experience a team of quality service personnel, go to http://www.infofree.com.
About Us: Infofree.com™ is revolutionizing the sales lead and mailing list industry by providing unlimited search, select and view of over 15 million business records, 250 million consumers and hundreds of other specialty databases for the low, flat price of only $49.95 per month or $599.50 per year. Reach new homeowners, new movers, newlyweds, new businesses and much more!