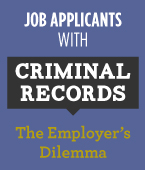 Employers must walk a narrow line between treating applicants with criminal backgrounds fairly and minimizing hiring risks.
Purcellville, VA (PRWEB) May 01, 2014
Employment screening company, Proforma Screening Solutions, released a new infographic today. It spotlights the challenges employers face when designing hiring policies that are sensitive to the situations of nearly one in four U.S. adults who have a criminal background.
The Equal Employment Opportunity Commission (EEOC) instructs employers to treat job applicants equally, but assess them individually in regards to their criminal background. At the same time, employers have a duty of care in the hiring process to protect the safety of the workplace and the public.
"Employers must walk a narrow line between treating applicants with criminal backgrounds fairly and minimizing hiring risks," explains David Lowers, President of Proforma Screening Solutions. "Even well-intentioned employers will be held accountable when things go wrong at either end of the spectrum," he continued.
The infographic from Proforma Screening Solutions, titled, "Job Applicants with Criminal Records: The Employer's Dilemma" presents the challenge employers face and offers advice on how companies can establish background screening and hiring practices that serve both applicants and the workplace at large.
The key takeaway from the information is that a company's employment screening program needs to be more than a routine activity.
According to EEOC guidelines, once an employer has determined through background screening that an applicant has a criminal record, the employer must perform an individualized assessment of the applicant's circumstances. In this process, there must be reasonable opportunity for the applicant to challenge the findings or present mitigating factors.
Using the information from the background report coupled with the result of an individualized assessment, the employer can then come to an equitable and defensible decision about an applicant's suitability to join its workforce.
View the full infographic at http://www2.lowersriskgroup.com/employers-dilemma.
About Proforma Screening Solutions
Proforma Screening Solutions is a pioneering firm in the development of cost-effective employment screening tools to help employers make better hiring decisions. Proforma uses innovative applications of cutting edge technology to glean useful information from public (and private) data sources, minimizing the costs of doing so. As a unit of the Lowers Risk Group, Proforma Screening Solutions has access to a full range of risk mitigation practices to offer clients a single point for total enterprise risk management.