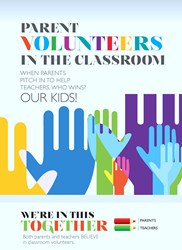 "...48% of the teachers cite challenges in coordinating volunteers and almost half report having had too few volunteers last school year."
Austin, TX (PRWEB) August 13, 2013
This September, teachers will be looking for more parent volunteers – and they are hoping those volunteers will go beyond chaperoning field trips and organizing parties, according to a new survey by WeAreTeachers and VolunteerSpot. The survey of more than 1,000 educators and parents found that 60% of teachers support the idea of more parents serving crucial roles in the classroom.
"It's great to see that our teachers want and enjoy having parent volunteers in their classrooms," said Sandy Fivecoat, founder of WeAreTeachers. "Parents want their children to know they value their education. Volunteering helps parents better understand the schools' needs and improve parent-teacher communication."
The survey found that nearly 60% of parents' volunteer hours are spent supervising field trips, donating supplies, or organizing class parties. But with tight school resources teachers want and need additional volunteer help in ways that support learning, such as listening to students read, tutoring, and helping to prepare learning centers. Teachers believe in the benefits of parent volunteers and would like to be able to welcome more parental support into their classroom. However, 48% of the teachers cite challenges in coordinating volunteers and almost half report having had too few volunteers last school year.
And even though nearly two-thirds of parents prefer receiving information about volunteering online or via email, more than 6 out of 10 educators still send notes home via backpacks.
"Using technology to reach parents on their computers and smartphones can relieve many of the frustration points for both teachers and parent volunteers," said Karen Bantuveris, Founder & CEO, VolunteerSpot.
"Online platforms enable working parents to get involved in their children's education whether they are coordinating other parents with VolunteerSpot, reading to the class via Skype, participating in class web chats or updating class newsletters and Pinterest boards. Since according to our survey 73% of parents cite work schedules as their biggest hurdle to volunteering, web platforms could remove this obstacle in many cases."
Another key issue is 3 out of 5 teachers report parents missing volunteer commitments. VolunteerSpot's free sign-up and reminder tools bridge this communication and coordination gap by helping busy parents keep track of their turn to volunteer.
This survey has opened a window into how parents and teachers might better work together to meet children's needs in and out of the classroom. Aligning parent help with classroom needs and streamlining volunteer coordination enhances the learning environment and is a great step toward improving our children's education.
View the Full Infographic here: http://vols.pt/infographic
About the Survey
This 2013 survey was conducted in two parts. Volunteer Spot conducted an online survey of 500 parents from their volunteer database. WeAreTeachers conducted an online survey with 661 educators. (Email invitations were sent out to 150,000 K-12 grade classroom teachers, school secretaries, and librarian/media specialists.) Data collection took place in late May and early June.
About WeAreTeachers (http://www.WeAreTeachers.com)
WeAreTeachers was founded with the mission to connect educators with the resources they need to be successful inside as well as outside the classroom. As we've grown into one of the leading web destinations for educators, we've kept that mission at the heart of everything we do. Whether it's offering financial resources through grants and contests, providing inspiration with teacher-created lesson plans or empowering teachers with professional development opportunities, we strive to be a source of innovation and ideas for educators so that they can, in turn, inspire learners.
About VolunteerSpot (http://www.VolunteerSpot.com)
Launched in 2009, VolunteerSpot simplifies the volunteer experience with free online coordination tools that empower a legion of busy parents, teachers and community leaders to easily recruit and organize volunteers as well as fundraise. VolunteerSpot has grown from mom-to-mom to group-to-group and today, supports more than 3 million users nationwide. VolunteerSpot's new iPhone App, "Sign Up", was a Top 10 Productivity App in July. VolunteerSpot was recognized by Inc. magazine as the number one Top Time-Saving App for Moms in 2012 and as a Cool Mom Pick - Coolest Websites for 2011. Based in Austin, Texas, VolunteerSpot is privately held and funded by ffVC and angel investors.