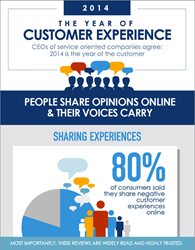 Washington, DC (PRWEB) May 02, 2014
We are in the age of the customer, but are enterprise brands listening? Shoppers are belting out their reviews over social channels, sharing their positive and negative consumer experiences. And we've all heard stories about how a company changed something based on massive amounts of social feedback from their customers.
This new infographic from social intelligence expert, newBrandAnalytics, stresses how truly great service continues online long after the customer has left the building and posted on sites such as Twitter, Facebook, Yelp, TripAdvisor, Google Places, and Foursquare.
Click here to grab the full infographic to include in your next post.
newBrandAnalytics analyzed millions of social media reviews for more than 150,000 businesses operating in retail, hospitality and restaurant industries to develop this digestible chart, noting how consumers share comments in key guest satisfaction topic areas including service quality, products and on-site facilities.
newBrandAnalytics visualized data including:

79% of consumers trust online reviews as personal recommendations
Customer service is the number one factor influencing consumer trust in a company
On average, loyal customers deliver 80% of a brand's revenue
About newBrandAnalytics
newBrandAnalytics delivers social intelligence that helps companies win – and keep – market share while improving overall operational performance. newBrandAnalytics' unique approach extracts targeted, local insights from volumes of unstructured social media data, pinpointing specific ways your company can meet and exceed customer expectations to create lifelong brand evangelists. The company serves clients across food and beverage, hospitality, retail, and government industries, including Five Guys, Hyatt, Subway, David's Bridal, Darden, Dick's Sporting Goods, the District of Columbia and many more. To learn more, please visit http://www.newbrandanalytics.com or follow @nBrandAnalytics.