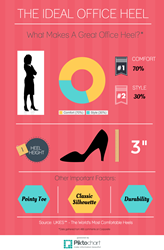 "The numbers don't lie. Sensible, comfortable heels are what women really want for the office."
Atlanta, GA (PRWEB) April 28, 2015
What goes into the perfect pair of work heels? It's a question Atlanta-based shoe company UKIES intuitively knew the answer to when they launched their comfort heel collection in the Summer of 2014. But now, with their new survey (and infographic) of 460 working women, they have the data to back up their hunch.
UKIES recently asked readers of Corporette.com, the popular fashion and lifestyle blog for professional women, to answer the question: What's the most important thing you look for in a pair of office heels? Seventy percent of the 460 women who responded revealed that comfort was the most important characteristic they looked for in office heels. "Women are sick and tired of wearing painful heels," says UKIES shoe designer Kavita Khaitan. "They want heels that can take them from desk to dinner - without band-aids!" Kat Griffin, founder and publisher of Corporette.com, agrees: "Comfort is absolutely key; the last thing any woman wants is to have her footwear distract her from her job." And what about the ideal heel height? The majority of respondents preferred the classic 3-inch heel. "The numbers don't lie," says UKIES engineer and CEO Umaesh Khaitan. "Sensible, comfortable heels are what women really want for the office."
Coming in at a close second, backed by thirty percent of respondents, is style. While every woman has a different idea of what's stylish, the majority of respondents agreed that the best office heel has a "classic silhouette." The most classic style for work is the round or pointy toe leather pump in a neutral shade like black or nude. "When I designed our AM-PM collection," explains Kavita, "I deliberately wanted the heels to have a versatile color palette so you can pair your UKIES with just about any office outfit!" Between pointy and round toe heels, survey respondents also expressed a preference over pointy toe heels which are traditionally perceived to be trendier and more fashion-forward than round-toed shoes.
Finally, the female respondents also articulated the importance of a high heel's durability and quality, something the UKIES team had also long suspected would play a key role in attracting and retaining customers. "Our heels are not only made of the highest quality Italian leathers," explains Umaesh, "they've also been rigorously tested for resistance to dynamic compression at pressures higher than walking and running." UKIES subjected its patented nanoGel™ insoles to over 10,000 dynamic compressions to ensure their durability over time.
Based on this new survey, the formula Comfort + Style + Durability = the perfect work heels! Visit UKIES.com to discover the world's most comfortable heels, ideal for work and cocktail hour!
About UKIES
UKIES has reinvented the high heel: luxuriously crafted heels with cutting edge nanoGel™ technology that guarantees comfort and support with every step. The Atlanta-based shoe company will be launching a new collection of heels, wedges and flats with their improved comfort technology in the summer of 2015.