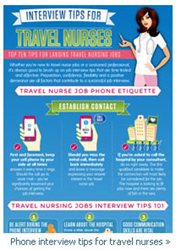 A phone interview is an audition for a serious role in your future. It is the first door to a successful job campaign.
Boca Raton, FL (PRWEB) March 26, 2014
Whether you're a healthcare professional seeking a much sought-after professional placement or one that desires a certain locale, mastering the phone interview is a critical component to securing travel nurse jobs. According to the healthcare staffing professionals at American Traveler, preparation is the key to mastering the phone interview.
Deborah Bacurin, RN, Clinical Account Manager at American Traveler observes, "We're seeing a lot of hospital hiring managers and recruiters conducting more intensive interviews over the phone in order to hire the best candidate for the job. We advise all of our travel nurses and allied health professionals to prepare for phone interviews much like they would for face-to-face meetings. To help candidates prepare, we've created an infographic for travel nurses that provides phone interview question etiquette tips to help them through the process."
The infographic offers phone interview tips for travel nurses in a step-by-step manner and can be accessed online by the candidate so that they are always prepared for an unannounced phone interview.
Paul Bailo, MBA, MSW, Ph.D. and author of "The Essential Phone Interview Handbook" states, "Today, more than ever, job candidates are screened by prospective employers via the telephone. Those who don't pass the phone interview don't get inside the door for a face-to-face interview with a hiring decision-maker. This is important for all job-seekers."
Nursing Interview Tips: Always be Available
Travel nurses can increase their candidacy by always being available when the phone rings. Be sure to plan the interview questions you have in advance and be sure to ask them. Key questions should include:

Nurse patient ratios,
Is the hospital using a computerized patient care system?
What type of travel nursing job orientation can you expect?
In addition to the 10 nursing interview tips, the infographic explains:
1. First and foremost, keep your cell phone by your side at all times and answer it every time it rings.
2. Should you miss the initial travel nurse job call, then call back immediately and leave a message expressing your sincere interest in the specific travel nurse job that you have been submitted for by your agency.
3. If you're asked to call the hospital by your consultant, do so right away. The first qualified candidate to make the connection will most likely be considered for the travel nursing job.
Author Bailo states, "A phone interview is an audition for a serious role in your future. It is the first door to a successful job campaign."
American Traveler and its affiliates were recently awarded their 6th consecutive Joint Commission Gold Seal of Approval due to its commitment to healthcare staffing excellence. Their dedication to continuous improvement for healthcare clients and travel professionals alike is illustrated through pro-active initiatives such as the phone interview infographic for travel nurses.
About American Traveler Staffing
The Joint Commission-certified American Traveler is a leading travel nurse company that specializes in short-term, per diem, travel nursing and permanent positions for RNs, Physical Therapists, OTs, SLPs and other allied health professionals. American Traveler places healthcare professionals into rewarding positions nationwide, from world-renowned teaching hospitals to rural medical facilities.
Source: Paul Bailo quote