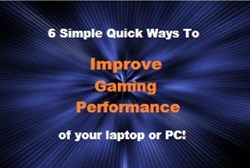 Improve Gaming Performance - Try these simple quick fixes for improving the gaming performance of your laptop or PC.
(PRWEB) February 06, 2014
A new infographic entitled "Improve Gaming Performance" has just been released by Bizwaremagic.com, a well-established 12 year old site which runs an online Laptop Buyer's Guide. This newly created infographic lists six different ways any laptop or desktop owner can use to improve the gaming performance of one's computer system.
However, this graphic is just not for gamers, anyone can use it to improve the performance capabilities of any laptop or desktop computer. Handy steps which one can take to increase the speed and performance level of any operating system.
In recent years, with the advent of computers and the Internet, infographics have become extremely popular. Just as the name suggests, an infographic takes a complex subject/issue and displays it in a much more simpler graphic form. In our fast-paced world, these graphics can be a simple way of absorbing complex or detailed information quickly and easily. Large amounts of data can also be displayed in charts and diagrams which the viewer can swiftly digest.
In addition, with the rise of social networks like Facebook, Google+, Twitter... infographics have become an effective marketing and branding tool for companies and websites. This effectiveness is multiplied by the "sharing" component in many of these social platforms, and a useful image can become viral, reaching millions of users within minutes. The potential for any infographic to go viral means a lot of webmasters use them to attract visitors to a site or product.
"With all the changes within Google with the Panda & Penguin Updates, SEO has become unpredictable for many websites," says Titus Hoskins, a former art teacher who now runs the Bizwaremagic.com site. "The infographic is an alternate way of obtaining traffic without relying on traditional link-building methods."
From a marketing perspective, infographics are also well suited for the "image search" programs run by the major search engines such as Google, Bing and Yahoo. With the rapid growth and popularity of Pinterest, an image sharing site, these images have a whole new venue for exposure and sharing. Mainly because a company's URL can not only be placed on the image itself, but this image can be linked directly to one's website. Again, an effective source of traffic which can't be ignored by businesses - online or off.
The Bizwaremagic site will be placing its "Improve Gaming Performance" inforgraphic on all the social networks, including Facebook and Pinterest. This infographic will be closely monitored and tracked in order to judge the results. More infographics are on the drawing board for release in the near future.
Interested parties can find the inforgraphic on the Bizwaremagic site here: http://www.bizwaremagic.com/improve_gaming_performance.htm or check out these highly rated gaming laptops: http://www.bizwaremagic.com/best_gaming_notebooks.htm. Founded in 2002, Bizwaremagic.com is an Internet Marketing and small business resource website, dealing with all aspects of running an online business - including computers. Over the years, its Laptop Computer Guide has been one of the most popular sections of the site.