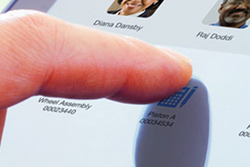 Business Process Improvement Platform
Clinton Township, MI (PRWEB) March 05, 2014
Godlan, a manufacturing ERP software specialist (SyteLine ERP), EAM (Asset Management) specialist and Infor Gold Channel Partner, announced today a Live Demo Webinar is set for Tuesday 3-11-14 at 10am Eastern Time Featuring Infor Ming.le - A business process improvement platform capable of solving old problems in new ways. Infor Ming.le fundamentally changes the way people do work through cutting edge business collaboration.
Businesses today struggle with their own internal "big data" including email trails, instant messages, online meetings, and conference calls - literally hours upon hours of critical business conversations that are decentralized, difficult or impossible to track, and ultimately lost. Infor Ming.le changes all that by providing a centralized platform for employee collaboration, where information is shared and conversations are organized into streams across the enterprise.
To learn more and interact in a free, live demo webinar register at this link: Webinar Registration Link.
Godlan achieved a TEC Accreditation for ERP Solutions 2013, was awarded the Infor North America SyteLine ERP Partner of the Year in 2011, Infor Regional Partner of the Year 2013 and is an approved Infor Gold Channel Partner serving customers for over 29 years. For more information, visit godlan.com or call 586-464-4400.
###
About Godlan, Inc.
Godlan is a leading manufacturing performance specialist that has been implementing integrated technology solutions since 1984. As an approved Infor Gold Channel Partner with a focus on Infor SyteLine ERP, Godlan supports the implementation of world-class processes and best practices throughout discrete manufacturing organizations. For more information about Godlan, its mobile application InSync Anywhere, or Infor SyteLine ERP manufacturing software demos, call 586-464-4400, visit godlan.com or follow us on Twitter @Godlan_Inc.
About Infor
Infor is fundamentally changing the way information is published and consumed in the enterprise, helping 70,000 customers in more than 200 countries and territories improve operations, drive growth, and quickly adapt to changes in business demands. Infor offers deep industry-specific applications and suites, engineered for speed, and with an innovative user experience design that is simple, transparent, and elegant. Infor provides flexible deployment options that give customers a choice to run their businesses in the cloud, on-premises, or both.
Infor customers include:
+ 19 of the top 20 aerospace companies
+ 12 of the top 13 high tech companies
+ 10 of the top 10 pharmaceutical companies
+ 21 of the 25 largest US health delivery networks
+ 16 of the 20 largest US cities
+ 84 of the top 100 automotive suppliers
+ 31 of the top 50 industrial distributors
+ 5 of the top 9 brewers