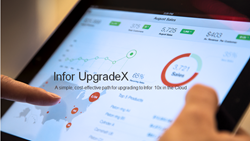 We experienced a very smooth upgrade process...
Clinton Township, MI (PRWEB) October 17, 2013
Godlan, an ERP manufacturing software specialist (SyteLine ERP), EAM (Asset Management) specialist and Infor Gold Channel Partner, announced today that the Infor UpgradeX Program is now generally available for Godlan customers. UpgradeX is a simple and predictable path to upgrade from on-premise applications to the Infor Business Cloud.
Unlike most software companies with disparate products for the cloud versus on-premise, Infor UpgradeX allows customers to evolve their existing investments directly to the Infor10x technology stack running in the cloud.
The Infor UpgradeX Program features:
•Value Engineering and ROI Analysis
•A Fully Modernized Solution in the Cloud
•The New Infor 10x Technology Stack
•Training and Education
•Comprehensive Support
"We experienced a very smooth upgrade process and are extremely happy with our add-ons," said Chris Brown, Business Unit Manager, Forkardt.
Godlan manufacturing customers can now modernize and stay competitive by retiring legacy modifications, tapping into market-leading innovation, and optimizing their businesses with industry-driven solutions that bend without breaking.
With the launch of Infor 10x, companies have access to new features, deeper industry functionality, and innovative technologies—like social business, analytics, mobility, and cloud—that drive efficiency and speed. Godlan manufacturing customers are now powered by software that's as easy and enjoyable to use as a personal mobile device. They also get deep micro-vertical capabilities that have robust functionality built-in but allow them to adapt their systems without disrupting upgrade paths.
Godlan was awarded North America SyteLine ERP Partner of the Year by Infor in 2011 and is an approved Infor Gold Channel Partner serving customers for 28 years. For more information, visit godlan.com or call 586-464-4400.
###
About Infor
Infor is one of the world's largest providers of enterprise applications and services, helping 70,000 customers in 194 countries improve operations, drive growth, and quickly adapt to changes in business demands. Infor offers deep industry-specific applications and suites, engineered for speed, using ground-breaking technology that delivers a rich user experience, and flexible deployment options that give customers a choice to run their businesses in the cloud, on-premises, or both. To learn more about Infor, please visit infor.com.
About Godlan, Inc.
Godlan is a leading manufacturing performance specialist that has been implementing integrated technology solutions since 1984. As an approved Infor Gold Channel Partner with a focus on Infor SyteLine ERP, Godlan supports the implementation of world-class processes and best practices throughout discrete manufacturing organizations. For more information about Godlan, its mobile application InSync Anywhere, or Infor SyteLine ERP manufacturing software demos, call 586-464-4400 or visit godlan.com.
Infor customers include:
+ 19 of the top 20 aerospace companies
+ 12 of the top 13 high tech companies
+ 10 of the top 10 pharmaceutical companies
+ 23 of the top 50 largest US hospitals
+ 43 of the top 50 industrial distributors
+ 26 of the top 35 global retailers
+ 5 of the top 9 brewers